Clear Flexible Film acts as barrier to oxygen, moisture.
Press Release Summary: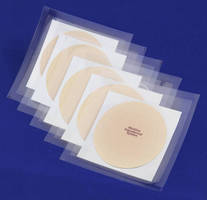 Targeting pharmaceutical and other chemically-sensitive applications, Exponent™ 2 combines ClearFoil® barrier-coated polyester and coextruded non-crystalline polyester sealant. This solution provides chemically neutral oxygen and water vapor barrier with chemical resistance. While oxygen barrier levels are available as low as 0.0008 cc/100in2-24 hr, water vapor barrier properties are available down to 0.0008 g/100in2-24 hr. Non-crystalline attributes enhance sealing properties.
---
Original Press Release:

Rollprint Introduces Exponent 2 Chemically-Resistant, Clear Flexible Film for High-Barrier Pharmaceutical Applications



Addison, Ill.—Rollprint Packaging Products, Inc., is announcing the addition of a second high-barrier structure to its Exponent film family.  Exponent™ 2 features a combination of Rollprint's award-winning ClearFoil® and a coextruded non-crystalline polyester sealant. (The non-crystalline attributes enhance sealing properties.) The material targets pharmaceutical and other chemically-sensitive applications which require exceptional barrier and clarity.



"With Ineos' recent announcement that it is exiting the Barex® acrylonitrile-methyl acrylate copolymer business, we wanted to let the industry know immediately that there is an alternative clear, high-barrier structure," said Dwane Hahn, vice president sales and marketing, Rollprint.  "In fact, Exponent 2 offers improved sealing characteristics over Barex due to easier-to-create hermetic seals and improved line speeds."



ClearFoil®, a barrier-coated polyester, is coextrusion coated with a non-crystalline polyester sealant to create Exponent 2. Pre-made or inline pouching, lidding and flow wrap applications are anticipated to be the first commercialized package types.



When compared to traditional foil-based high-barrier structures, Exponent 2's reduced number of layers and gauge offer cost-savings and create an improved environmental profile for a wide variety of pharmaceutical products.  The structure's high-barrier and clarity properties also make it a suitable replacement for glass vials, where cost and breakage continue to challenge manufacturers.



"We have engineered the Exponent family of films to meet performance requirements for pharma and other chemically-sensitive products, but use less material to help manufacturers meet their cost objectives.  We also wanted to offer clarity attributes not possible with foil-based structures and give companies an alternative to glass vials," said Hahn.



Exponent 2 has been engineered to provide a chemically neutral, ultra-high oxygen and water vapor barrier with chemical resistance. Oxygen barrier levels are available as low as 0.0008 cc/100in2-24 hrs. and water vapor barrier properties are available down to 0.0008 g/100in2-24 hrs.



The transdermal patch, e-cigarette and diagnostics markets are the first application opportunities Rollprint envisions for this technology. Exponent 2 is also an excellent candidate for single-dose delivery systems and cosmetic applications because of its high surface-to-volume ratio and unique barrier properties. Additionally, the high-barrier film is ideally suited for the emerging flexible packaging for wine and spirits segment because of its outstanding organoleptic characteristics.



About Rollprint Packaging Products

With manufacturing facilities near Chicago, IL, Rollprint Packaging Products, Inc. is a worldwide supplier of packaging materials for the healthcare and food industries.  The company offers a complete range of flexible, heat-sealable materials incorporating film, ClearFoil®, foil, Tyvek® and paper.  Structures can be designed to accommodate any sterilization method.  Available in rollstock, pouches and die-cut lids, Rollprint's materials can meet the needs of most peelable, chemical resistant and barrier applications.



The company is a founder of Alliantz Flexible Packaging Pte. Ltd., a joint venture with Acme Packaging Co. (Pte) Ltd., Singapore.   Headquartered in Singapore, Alliantz serves the flexible packaging supply needs of Southeast Asia and China.



Rollprint is respected throughout the packaging industry for its heat-sealable, peelable rollstock and pouch technology, as well as its ClearFoil® ultra-high barrier transparent laminates, Allegro® peelable sealants and ClearForm® forming webs.  Rollprint has supplied flexible packaging materials for healthcare, industrial and food end-use applications for more than 50 years.  For additional info: www.rollprint.com.



Please forward sales inquiries to:

Dwane Hahn

Rollprint Packaging Products, Inc.

320 S. Stewart Ave.

Addison, IL 60101

Phone: (512) 869-6620

Email: dhahn@rollprint.com

Related