Class-D Audio Amp is suited for eCall, telematics applications.
Press Release Summary: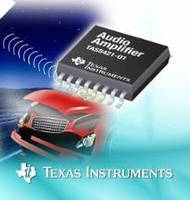 Supplied in 16-pin HTSSOP with PowerPAD package, TAS5421-Q1 automotive Class-D audio amplifier integrates 40 V load-dump and over-temperature protection and diagnostics in one device for emergency call (eCall) and instrument cluster systems. Mono-channel, analog differential input product integrates I²C diagnostics and offers quiescent current that eliminates need to use additional battery cells. Integration helps simplify automotive-grade diagnostic design and extend battery back-up power.
---
Original Press Release:

TI Introduces First Fully Integrated Mono, Class-D Audio Amplifier for eCall, Instrument Cluster and Telematics



Integrated diagnostics and load-dump protection provide reliability and simplify design



DALLAS -- Texas Instruments (TI) (NASDAQ: TXN) today introduced the industry's first automotive Class-D audio amplifier to integrate load-dump protection and diagnostics in a single device for emergency call (eCall) and instrument cluster systems. Designers can eliminate multiple discrete components, simplify automotive-grade diagnostic design and extend battery back-up power with the mono-channel, analog differential input TAS5421-Q1. For more information and to order samples, visit www.ti.com/tas5421q1-pr.



Demand for eCall systems in cars is increasing. In case of a crash, the eCall system automatically communicates and broadcasts its location to the nearest emergency center, which can cut response time to save lives. eCall systems need to run reliably and autonomously for long periods of time using only backup battery power. System designers can take advantage of the TAS5421-Q1's 90 percent efficiency and low quiescent current to make this possible.



Key features and benefits of the TAS5421-Q1



--  Highest level of integration: Integrates 40-V load dump and over-temperature to protect against harsh automotive conditions, such as load dump, that can damage the Class-D amplifier.

--  High efficiency and low quiescent current: Eliminates the need to use additional battery cells, cutting overall system cost, space and weight compared to discrete solutions.

--  Integrated I2C diagnostics: Replaces discrete solutions with full automotive-grade diagnostics to reduce cost and development time, ensure reliability and decrease system complexity.



Automotive eCall reference design

Customers can accelerate the design of their eCall systems by taking advantage of a complete automotive eCall reference design comprised of analog AEC-Q100-qualified integrated circuits from TI. This design in the TI Designs reference design library includes the full bill-of-materials, schematics, test data and design files for quick design of an eCall system.



Availability, packaging and pricing

The TAS5421-Q1 is available in a 16-pin HTSSOP package with PowerPAD package. Suggested retail pricing in 1,000-unit quantities starts at US$1.74.



Learn more by visiting these links:

--  Order TAS5421-Q1 samples.

--  Download IBIS model.

--  View the complete TI Designs automotive eCall reference design

--  Support is available on the Audio Amplifier Forum in the TI E2E(TM) Community, where engineers can search for solutions, get help, share knowledge and solve problems with fellow engineers and TI experts.

--  Follow what TI signal chain experts have to say on our blog: www.ti.com/analogwire-pr.



Texas Instruments drives automotive innovation

TI's state-of-the-art semiconductor products allow manufacturers and system suppliers to deliver world-class features to the automotive market. Our extensive automotive portfolio includes analog power management, interface and signal chain solutions, along with DLP(®) displays, ADAS and infotainment processors, Hercules(TM) TMS570 microcontrollers and wireless connectivity solutions. TI offers SafeTI(TM) devices designed to help facilitate OEMs' compliance with the requirements of ISO 26262, as well as parts specifically designated as compliant with the AEC-Q100 and TS16949 standards, all with product documentation. Visit TI's Automotive page or TI's E2E(TM) Community Behind the Wheel Blog to learn more about our commitment to automotive innovation.



About Texas Instruments

Texas Instruments Incorporated (TI) is a global semiconductor design and manufacturing company that develops analog ICs and embedded processors. By employing the world's brightest minds, TI creates innovations that shape the future of technology. TI is helping more than 100,000 customers transform the future, today. Learn more at www.ti.com.



Trademarks

TI E2E is a trademark of Texas Instruments. All other trademarks and registered trademarks belong to their respective owners.



CONTACT:

Lindsey Starnes

Texas Instruments

214-479-3325

lindsey@ti.com



Vicky Smithee

Golin

972-341-2537

vsmithee@golinharris.com





More from Controls & Controllers