Clampseal® Throttling Valves Feature Precise Repeatable Flow Control and Dependable Shutoff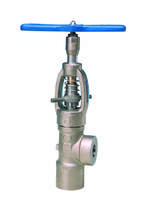 Enfield, CT USA (1/22/20)--Clampseal throttling valves are ideal for severe service applications that require precise repeatable flow control and dependable shut-off. The valves are available in ½" through 4" sizes through ASME Class 4500. Standard forging materials include SA 105, SA 182-F22, SA 182-F91, SA 182-F92, and SA 182-F316.
The venturi is an integral part of the removable seat. Both the seat and the stem assembly are easily changed in-line should modified flow characteristics be required or replacement necessary from excessive corrosion or erosion. The orifice is sized to keep fluid velocity across the seat below damaging levels. The exit orifice angle is designed to minimize downstream piping erosion and noise. 
The simple and effective pressure seal bonnet provides ready access for servicing with no welds to cut or seal rings or gaskets to replace. The body-to-bonnet joint integrity is maintained through countless thermal cycles. The durable single-piece stainless steel gland contributes to the longevity of the valve.
Founded in 1967, Conval is a global leader in high-performance, severe service valves. For details, please contact Conval, 96 Phoenix Avenue, Enfield, CT 06082 USA; telephone 860.749.0761, email [email protected], or visit www.Conval.com.
Contacts:
Don Bowers
VP of Sales & Marketing
860.749.0761
Drew Crandall
Keep In Touch (PR firm) 
860.871.6500