Clamp Meter operates in tight quarters.
Press Release Summary: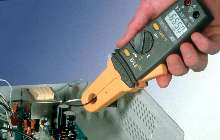 Model 316 AC/DC Milliamp Clamp Meter provides safe, non-
invasive measurement of up to 100 Aac, 100 Adc, 600 Vac, 600 Vdc, and Resistance up to 10 Kohm. Portable, digital unit features 4-digit LCD display, auto power off after 30 min, auto ranging, peak hold, data hold, and touch zero function. Resolution is 1 mA with minimum input of 70 mA. Maximum jaw opening is 0.49 in. Meter utilizes two AAA batteries with expected life of 45 hours.
---
Original Press Release:

Non-Intrusive Milliamp Clamp Meter Designed for Electronic Applications


YORBA LINDA, Calif., August 28, 2003 -B+K Precision Corporation, one of the industry's leading suppliers of test and measurement products, today announced the addition of the new Model 316 AC/DC Milliamp Clamp Meter to its expanding product line. The small size of this lightweight, portable, battery-powered digital clamp meter makes it practical to use where a traditional sized meter may be too cumbersome. Because of its smaller size, the Model 316 can measure current levels more than ten times lower than traditional sized meters, which can only measure current levels down to around five amps. Priced at only $159.00, the Model 316 features autoranging capabilities and is the ideal tool for evaluating or repairing electronic equipment.

B+K Precision's new Model 316 offers the user an outstanding list of features including:
o Low Cost
o Pocket Size
o 4 Digit Display
o Auto Power Off
o 1mA Resolution with minimum input of 70mA
o Auto Ranging
o Peak Hold Function
o Data hold Function
o Touch Zero Function
o Analog Signal Function

The Model 316 AC/DC Milliamp Clamp Meter provides safe, non-
invasive measurement of up to 100 Amps AC (+/- 3.5% + 10dgt), up to 100 Amps DC (4.5%+/-10dgt), up to 600 Volts AC (+/-1.5%+5dgt), up to 600 Volts DC (+/-1%+2dgt), and Resistance of up to 10Kohm. The unit's unique Data Hold feature allows the user to freeze the LCD display reading. Other features include a front panel mounted, easy to read 4-digit LCD display, automatic
range selection, over-range and low battery indicators, automatic power off after 30 minutes, and a maximum jaw opening of 0.49" (12mm).

The Model 316 utilizes two AAA batteries with an expected life of
approximately 45 hours. Its compact size (7.95" L x 2.76" W x 1.33" H) and lightweight (6.34 oz including battery) makes the Model 316 ideal for use in cramped quarters.

Priced at $159.00 (qty 1), The Model 316 AC/DC Milliamp Clamp
Meter comes with B+K Precision's standard one-year warranty, instruction manual, batteries, and carrying case. It is available for immediate delivery.

For over 50 years, B&K Precision Corporation has developed a reputation for excellence in the design and manufacture of high quality, reliable and cost-effective test and measurement products. Recognized for their price-performance value, ease of use, measurement accuracy and application flexibility, B&K Precision Corporation products are available worldwide
through a global network of authorized distributors.

For additional information or the name and location of an authorized distributor near you, contact B&K Precision Corporation, 22820 Savi Ranch Parkway, Yorba Linda, California, 92887, Tel: (714) 921-9095, Fax: (714) 921-6422 or visit our Web site at www.bkprecision.com

Related