Circular Sputtering Source offers UHV-compatible option.
Press Release Summary: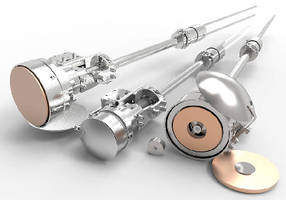 Designed to meet requirements of R&D community, Torus® Mag Keeper™ includes quick target change feature, optimized cooling design, and low operating pressure capability. Circular magnetron sputtering source is engineered with no O-rings and all ceramic insulators. For magnetic film deposition, Mag Keeper offers high-strength magnet options for sputtering up to 3 mm thick Fe. Product comes in 2, 3, and 4 in. target sizes with broad range of mounting options.
---
Original Press Release:

New Circular Sputtering Source from Kurt J. Lesker Company



Jefferson Hills, PA. – The Kurt J. Lesker Company® is pleased to formally announce the official release of our newest magnetron design — the Torus® Mag Keeper™ UHV compatible circular magnetron sputtering source.  These sources have been specially designed to meet the requirements of the R&D community for a user-friendly source that fits a broad range of applications. With a quick target change feature, enhanced "patent pending" cooling design, low operating pressure capability, and reduced overall footprint, the Mag Keeper design is geared to provide the enhanced performance and flexibility each process requires. In addition, the source is engineered with no O-rings and all ceramic insulators, making it a UHV compatible design option.  For magnetic film deposition, the Mag Keeper offers enhanced high strength magnet options for sputtering up to 3mm thick Fe.



The Mag Keeper is the standard configuration used in our system platforms and offered to our customers worldwide for use in existing systems. Our broad range of mounting options allows us to integrate to any existing mounting requirement.



With offices worldwide, the Kurt J. Lesker Company has the capacity to provide real-time and or on-site support as necessary  to make sure our customers are realizing the full scope of our products' advantages with minimal or no downtime.



The new Mag Keeper sources are in stock and offered in 2", 3" and 4" target sizes.  Please direct any inquiries to

[email protected]

.



The Kurt J. Lesker Company (KJLC), founded in 1954, is a global manufacturer and distributor of vacuum components and systems for the high- and ultra high vacuum equipment market.



For more information contact:   



[email protected]

   

www.lesker.com  

800.245.1656    

412.387.9200