Circular Form System offers joy stick control.
Press Release Summary: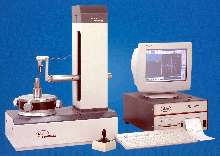 Utilizing proprietary MarForm Metrology Software, MarForm(TM) MMQ 6200 multi-parameter system measures parts weighing up to 132 lbs and measuring up to 15.5 in. in diameter and 13.5 in. high. Product incorporates motor-driven gage head stand, touch screen, and variable-speed joy stick controls. Additional offerings include heavy-duty base; precision, 8.6 in. mechanical bearing spindle; and tilt/centering table. Precision spindle offers radial accuracy of ±1.38 µin.
---
Original Press Release:

Mahr Federal Introduces MMQ 6200 Circular Form System


Multi-Parameter System Incorporates Motor Driven Gage Head Stand, Variable Speed Joy Stick Control

PROVIDENCE, RI -- Leading metrology products manufacturer, Mahr Federal Inc., has introduced a new, multi-parameter Circular Form System with motor-driven gage head stand, touch screen and variable-speed joy stick controls. Designed to measure medium to large parts, the new MarForm(TM) MMQ 6200 utilizes Mahr Federal's well-known MarForm Metrology Software package and can be used either in the lab or on the shop floor.

Utilizing a heavy-duty base to absorb shock and vibration, and a precision, 8.6 in. (220 mm) mechanical bearing spindle and tilt/centering table, the system can comfortably measure parts weighing up to 132 lbs., with 15.5 in. (394 mm) maximum diameters and maximum heights of 13.5 in. (343 mm). A lever type gage head with .062 in. (1.8 mm) ball contact is easily positioned by a motorized vertical and horizontal height stand with encoders and joystick controller. The MMQ 6200 provides two measuring ranges of ±.020 in. (±500 µm) and ±.002 in. (±50 µm) and the precision spindle has a radial accuracy of ±1.38 µin. (±.035 µm).

The MMQ 6200 Circular Form System comes with an Intel Pentium® processor, a 15 in. color monitor with touch-screen controls, a built-in high speed thermal printer, CD drive and 3.5 in. disk drive. User-friendly MarForm metrology software runs on Microsoft Windows® operating system to measure a wide range of parameters, such as roundness, concentricity and circular runout, circular flatness and perpendicularity, plane runout, circular parallelism of top and bottom faces, and coaxiality.

The MarForm software also incorporates an "expert system" which alerts operators to out-of-tolerance conditions and suggests possible sources of form or setup error, or additional analyses to perform such as DR/Dtheta or slope analysis. Optional software packages are also available for Harmonic Analysis, Statistics and Multi Trace Measurement.

A number of accessories are available for the MMQ 6200, including additional gage heads and stands, part support devices and test balls. In addition, an MMQ 6100 Extended is also available with a manual vertical and horizontal height stand. The MMQ 6110 is set up for USA 110 voltage, and the MMQ 6120 for 220 volts.

Mahr Federal Inc., a member of the Mahr Group, is known worldwide for its expertise in providing dimensional measurement solutions. The ISO 9001-certified company manufactures and markets a wide variety of dimensional metrology products, and is headquartered in Providence, RI. For additional information, contact: Marketing, Mahr Federal Inc., 1144 Eddy Street, Providence, RI 02905 USA. Tel: (800) 333-4243 or (401) 784-3100. Fax: (401) 784-3246. Email: information@mahr.com Web site: www.mahr.com

More from Software