Circular Fluid Bed Dryer cuts cleaning time.
Press Release Summary: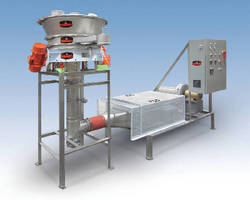 With stainless steel material contact surfaces, quick-disconnect housing, and lack of internal cross members, 30 in. Vibro-Bed™ minimizes required cleaning time. Complete system, containing blower, heater, and programmable controls, requires only on-site connections to power source, dust collectors, and material inlet/outlet. Options include: centrifugal screeners, spray nozzles to coat dried particles, and vibratory screeners to scalp, classify, or dedust dried material.
---
Original Press Release:

Circular Fluid Bed Dryer Reduces Cost, Size, Energy, Cleaning Time



MILLBURN, NJ—A new 30 in. (762 mm) Vibro-Bed™ circular fluid bed drying system from Kason Corporation increases operating efficiency, cuts cleaning time and reduces cost, according to Henry Alamzad, President.



Inherent rigidity of the circular fluid bed processing chamber exceeds that of traditional rectangular fluid bed processors, allowing materials of construction to be down-gauged and vibratory motors to be downsized. Associated components are also eliminated, such as multiple air inlets and outlets, the circular unit requiring only one of each. As a result, the dryer is said to be lighter, stronger and more energy efficient at equivalent capacities.



Reductions in material, weld seams, and associated labor decrease fabrication cost, particularly when units are finished to FDA, USDA, BISSC, or 3A standards.



Cleaning time is cut in half due to stainless steel material contact surfaces, reduced weld seams, a quick-disconnect housing, and lack of internal cross members, according to the company.



Compactness and light weight allow configuring of complete systems or modules containing the blower, heater and programmable controls on skid-mounted frames, requiring only on-site connections to a power source, dust collector, and material inlet/outlet.



Material fed into the top inlet of the dryer descends into the fluid bed chamber where it vibrates on a circular screen within a rising column of heated air ducted into the bottom of the chamber from the upstream heater/blower.  The continuous airflow, and vibration induced by two vibratory motors and spring suspension, separate and fluidize individual particles, maximizing surface area and drying efficiency.  The vibratory action also causes material to travel from the center of the screen to a discharge spout at the screen's periphery in controlled spiral pathways on a "first in/first out" basis.



The circular fluid processing unit is offered in diameters from 18 to 84 in. (460 to 2135 mm), encompassing batch and continuous applications from low-capacity laboratory and pilot plant testing to medium-high volume production. All are available configured for drying/heating, cooling or moisturizing applications. Available options include: centrifugal screeners to deagglomerate moist incoming material; spray nozzles to coat dried particles; and vibratory screeners to scalp, classify or dedust dried material.



The company also manufactures stand-alone circular vibratory screeners, centrifugal screeners, size/density separators and static sieves.



For information contact Kason Corporation, 973-467-8140, info@kason.com, www.kason.com

More from Sensors, Monitors & Transducers