Circular Connectors withstand temperatures to 800°C.
Press Release Summary: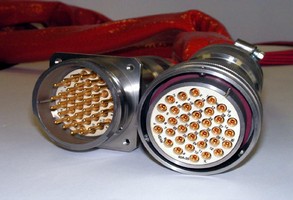 Complying with European CEN/TS 45545 standards governing railway fire safety, VEAM CIR Series has exposure period of at least 15 minutes at ISO 834-1 heating curve, where maximum temperature is 800°C. Featuring stainless steel shell and ceramic insulation, units come with 35 size 12 poles at 40 A. Silicon rubber grommet ensures sealing, while contacts with metallic retention clip provide high integrity contact that does not release under extreme shock and vibration conditions.
---
Original Press Release:

ITT Develops High Temperature Connectors for Increased Safety, Reliability in Transportation Applications



Connectors withstand temperatures to 800°C, meet railway fire safety standards...

SANTA ANA, Calif. - May 29, 2008 - ITT Interconnect Solutions, a leading global
manufacturer and supplier of connectors, interconnects, and cable assemblies, has developed a series of high temperature connectors. Designated the CIR Series, ITT VEAM's circular connectors meet European CEN/TS 45545 standards governing railway fire safety. The connectors are capable of withstanding a high temperature exposure period of at least 15 minutes at the ISO 834-1 heating curve, where maximum temperature is 800°C.

"The CIR Series connectors were developed specifically to address the concerns of passenger safety in European railway systems," said Keith Teichmann, director of marketing for ITT Interconnect Solutions. "As a result of the high temperature capabilities and increased reliability, critical control signals remain viable and the connectors remain active while a train moves away from the site of an accident or fire, providing increased passenger safety in the
event of an emergency."

Typical applications for the VEAM CIR Series connectors include railway systems,
transportation interconnects, and high temperature environments where signal integrity is critical.

Featuring a stainless steel shell and ceramic insulation, the VEAM CIR Series connectors are available with 35 size 12 poles at 40A. A silicon rubber grommet ensures sealing, while contacts with a metallic retention clip provide a high integrity contact that will not release under extreme shock and vibration conditions.
ITT is also developing the CIR Series connectors with 40 size 16 poles rated at 36A and 4 size 16 poles.

About ITT Interconnect Solutions
ITT Interconnect Solutions is an international manufacturer and supplier of connectors
including circular, rectangular, fiber optic, RF, power and high voltage, audio, PCMCIA, Compact Flash Card, enclosures, cable assemblies, and application specific custom solutions. The Interconnect Solutions portfolio includes the brands Cannon, VEAM, and BIW. For more information on ITT Interconnect Solutions and an archive of its press releases, please visit www.ittcannon.com.

About ITT
ITT Corporation supplies advanced technology products and services in several growth
markets. ITT is a global leader in the transport, treatment and control of water, wastewater and other fluids. The company plays a vital role in international security through its defense communications and electronics products; space surveillance and intelligence systems; and advanced engineering and related services. It also serves the growing leisure marine and electronic components markets with a wide range of products. Headquartered in White Plains, NY, the company generated $7.8 billion in 2006 sales.

Keywords: ITT, Interconnect Solutions, CIR Series, VEAM, high temperature, connector

Leads Contact:
Nas Hashemian
ITT Interconnect Solutions
666 East Dyer Road
Santa Ana, CA 92705
Tel.: +714-628-8370
Fax: +714-628-2249
Email: nas.hashemian@itt.com
Web: www.ittcannon.com

More from Health, Medical, & Dental Supplies and Equipment