Circuit Tracer locates wires and cables behind walls.
Press Release Summary: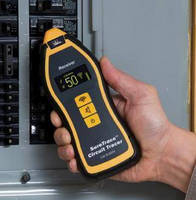 Offering 4 defined ranges, SureTrace™ lets electricians select proper sensitivity for specific job. Circuit tracer pinpoints opens/shorts and identifies fuses and breakers on both energized and de-energized circuits from 0-600 Vac/Vdc. Unit includes display that provides numeric value between 0–99, variable pitch/tone audible indication, and peak detector that instantaneously registers signal strength. To minimize false signaling on noisy circuits, handset signal communication is tuned tight.
---
Original Press Release:

IDEAL Launches Next Generation SureTrace(TM) Circuit Tracers



Simple, time-saving electrician's tracer identifies breakers and fuses, pinpoints opens and shorts, traces behind walls

 

SYCAMORE, IL, -- IDEAL INDUSTRIES, INC., one of the world's largest manufacturers and suppliers of quality tools, connectors and testing products for the Electrical and Data Communications trades, today introduced its next generation SureTrace™ circuit tracer that lets electricians quickly locate wires or cables behind walls, pinpoint opens/shorts, and identify fuses and breakers on both energized and de-energized circuits from 0-600V AC/DC.



Designed to keep productivity high and operational costs low, SureTrace circuit tracers have four defined ranges to allow the electrician to select the proper sensitivity for a specific job. And rather than annoying blinking lights and difficult-to-dicipher beeps, it has a display that provides a numeric value between 0 and 99 and a variable pitch/tone audible indication as fast-response tracing feedback, while its peak detector instantaneously registers signal strength. Another time-saving advantage is that handset signal communication is tuned tighter to reduce false signaling on noisy circuits, a common problem with competitors' circuit tracing devices.



SWIVELDISPLAY™

Electricians often work in overcrowded electrical closets and other awkward places. To make tracing easier in these situations, SureTrace™ features the only rotating display in the industry. Regardless of what position the electrician puts the receiver in, the SwivelDisplay™ display will orient itself so that the reading stays upright. It rotates automatically in 90° (OLED) or 180° increments (LED) so it can be read from any position. Plus, with AA batteries, the tracers provide four times the tracing power of conventional 9-volt circuit tracers on the market.



SAFETY FIRST

Every safeguard has been taken to make the Circuit Tracers durable and safe for the long term. Additionally, a high-energy fuse and CAT III 600V design gives electricians the confidence to go about the job without worrying about equipment safety.  Its advanced transmitter will not affect GFCIs or sensitive electronic equipment, and its inductive clamp allows non-intrusive tracing on low-voltage cable. In addition, ruggedized overmolding on the housing assures maximum impact resistance.



CERTAINCIRCUIT™

To make the tracers both productive and safe, all SureTrace models feature CertainCircuit™ detection technology. After an electrician identifies and trips the correct breaker, CertainCircuit senses the loss of power and sends a different signal back to the receiver at the panel that the right circuit was de-energized.



IDEAL SureTrace circuit tracers are available in three kits to serve the needs of professional electricians. For more information, call 800-435-5181 or visit www.idealindustries.com. 



ABOUT IDEAL INDUSTRIES, INC.

IDEAL INDUSTRIES, INC. has been serving the electrical industry since 1916. IDEAL is one of the world's leading manufacturers of professional quality tools and supplies serving installation professionals in the construction, maintenance, data communications and original equipment manufacturing industries.



©2013 IDEAL INDUSTRIES, INC.  All rights reserved.  All products and names mentioned are the property of their respective owners.  While IDEAL has made every effort at the time of publication to ensure the accuracy of the information provided herein, product specifications, configurations, prices, system/component/options availability are all subject to change without notice.

More from Optics & Photonics