Circuit Protector offers adjustments for motor starting needs.
Press Release Summary: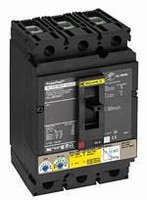 Designed for motor branch short circuit protection, Square D® PowerPact electronic Motor Circuit Protector (MCP) is set to in-rush characteristics of motor in compliance with NEC requirements. MCP features two dial design, with one dial that allows for Full Load Amperes (FLA) adjustment and a second that selects type of motor protection. Product provides 5 catalog numbers for use with NEMA Size 00 to 5 starters.
---
Original Press Release:

New Square D® Powerpact® Electronic Motor Circuit Protectors Provide the Ultimate Solution for Protecting Motor Circuits



PALATINE, Ill. - October 5, 2006 - The new Square D® PowerPact electronic Motor Circuit Protectors (MCPs) offer a simple solution that delivers more reliable start-ups, better protection for your equipment and a wide range of adjustment to meet your motor starting needs.

"The new PowerPact electronic MCPs provide the optimum solution for motor branch short circuit protection," said Leland Walker, Square D Product Specialist. The unique design simplifies both product selection and necessary adjustments to ensure the MCP is set to the correct in-rush characteristics of the motor in compliance with National Electrical Code® (NEC) requirements. "From simplified selection to automatic adjustment settings to higher SCCR ratings when used with Square D and Telemecanique® starters, the new PowerPact MCPs are redefining the standard for simplicity and performance."

Managing Motor In-Rush
Motor in-rush creates many problems for sizing and setting the circuit breaker in motor circuits. The high in-rush demands of energy-efficient motors can commonly create nuisance tripping or make it difficult to ensure an installation is NEC-compliant. The PowerPact MCP has instantaneous trip points that align with the motor and NEC requirements to ensure the installation works properly.

The unique design of the PowerPact MCPs includes two dials to allow a customer to quickly and confidently adjust settings based on the characteristics of the motor. The first dial allows for Full Load Amperes (FLA) adjustment across the range of the frame size, while the second dial selects the type of motor protection based on Automatic 1 for Standard Efficiency or Automatic 2 for High Energy Efficiency. Dial 2 also allows for traditional motor protection from eight to 13 times the selected FLA.

Reduced Inventory Requirements
The new PowerPact MCPs feature five catalog numbers for use with NEMA Size 00 to 5 starters.

"Our customers will appreciate the reduced inventory requirements offered by the new PowerPact MCPs," Walker said. "The five PowerPact MCP products are equivalent to stocking as many as 40 unique fuse sizes or dozens of non-electronic MCPs."

For more information about the Square D PowerPact Motor Circuit Protectors, call
1-800-392-8781 or visit us.squared.com.

Headquartered in Palatine, Ill., the North American Operating Division of Schneider Electric had sales of $2.8 billion (U.S.) in 2005. The North American Operating Division is one of four operating divisions of Schneider Electric, headquartered in Paris, France, and markets the Square D, Telemecanique and Merlin Gerin brand products to customers in the United States, Canada and Mexico. In the United States, Schneider Electric is best known by its flagship Square D brand, with Telemecanique becoming increasingly known in the industrial control and automation markets and supported by many Square D distributors. For 100 years, Square D has been a market-leading brand of electrical distribution and industrial control products, systems and services. Schneider Electric is a global electrical industry leader with 2005 sales of approximately $14.5 billion (U.S.).

Visit Schneider Electric on the Internet at:
Corporate - www.us.schneider-electric.com
Telemecanique Products - www.us.telemecanique.com
Square D Products - us.squared.com
Merlin Gerin Products - us.merlingerin.com

Please send all reader inquiries to:
Square D Literature Fulfillment Center
W6545 Quality Drive
Greenville, WI 54942
Sue Tebo
800-392-8781
e-mail to: SquareD@banta.com

http://www.us.schneider-electric.com

More from Services