Circuit Breakers feature arc flash protection.
Press Release Summary: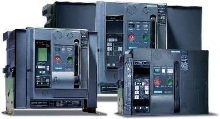 Offered in 3 frame sizes from 800-5,000 A, WL Circuit Breakers feature integrated racking handles, pull apart front-mounted terminal blocks, and modular accessories. Dynamic Arc-Flash Sentry detects worker approaching energized equipment and automatically lowers trip time of breaker, minimizing potential arc-flash energy. Extended Instantaneous Protection accommodates 100% of full withstand rating of frame while allowing breaker to be applied to max interrupting rating.
---
Original Press Release:

New Circuit Breakers Feature Arc-Flash Protection and Interchangable Accessories for Unsurpassed Security And Flexibility


ATLANTA (August 4, 2005) - Siemens Energy & Automation has expanded its line of WL Circuit Breakers with the new WL UL 489 family of insulated case circuit breakers available in three frame sizes, 800-5000 Amps. The new WL Circuit Breakers are efficient and easy to use with features such as integrated racking handles, pull apart front-mounted terminal blocks and modular accessories. The breakers have two new and exclusive features that distinguish them from their competitors and offer a safer and more reliable circuit breaker: Dynamic Arc-Flash Sentry technology and Extended Instantaneous Protection.

Due to Siemens' unique Dynamic Arc-Flash Sentry (DAS) technology, the WL UL 489 offers a pioneering approach to arc-flash protection, meeting the stringent safety requirements of NFPA 70E. The WL UL 489 breaker, when used with an appropriate safety-rated sensing device, detects a worker approaching the energized equipment. The DAS technology then automatically lowers the trip time of the breaker and thus reduces the potential arc-flash energy. DAS capability is available on Siemens' Electronic Trip Units 755 and 776 and can be implemented on all frames in the WL 489 circuit breaker family as well as on the current WL ANSI family.

The second new and exclusive feature is Siemens` Extended Instantaneous Protection, which accommodates 100 percent of the full withstand rating of the frame while still allowing the breaker to be applied up to the maximum interrupting rating. The WL overcomes the limitations of typical power circuit breakers by providing full withstand capability and full coordination with a minus 0% short-time band tolerance up to 85kA on frame Size II and 100kA on frame Size III.

The introduction of a new smaller size, Frame Size 1, presents increased flexibility when space is a concern. Further flexibility is offered due to the front mounted plug-in accessories that are common to the entire WL line and the field-upgradeable trip units, which allow the user make last-minute adaptations as necessary.

Reliability of the WL circuit breaker is assured with the highly accurate internal Rogowski CTs that deliver precision protection and metering with accuracy to within 1 percent. In addition, the WL 489 circuit breaker can keep in touch with the user through MODBUS or PROFIBUS communications modules, informing the user of breaker, switch, meter, relay and motor control functions. A front-panel, ready-to-close visual indicator confirms several breaker conditions are met before closing the panel giving the user peace of mind.

About Siemens:
Siemens AG (NYSE:SI) is a leading global electronics and engineering company with reported worldwide sales of $80.5 billion in fiscal 2003. With its United States corporate headquarters in New York City, Siemens in the U.S. has sales of $16.6 billion and employs 65,000 people throughout all 50 states and Puerto Rico. Eleven of Siemens' worldwide businesses are based in the United States. With its global headquarters in Munich, Siemens AG and its subsidiaries employ 417,000 people in 192 countries. For more information on Siemens in the U.S.: www.usa.siemens.com.

Siemens Energy & Automation Inc. is one of Siemens' operating companies in the U.S. Headquartered in the Atlanta suburb of Alpharetta, Ga., Siemens Energy & Automation manufactures and markets one of the world's broadest ranges of electrical and electronic products, systems and services to industrial and construction market customers. Its technologies range from circuit protection and energy management systems to process control, industrial software and totally integrated automation solutions. The company also has expertise in systems integration, technical services and turnkey industrial systems.

For more information: http://www.sea.siemens.com/wlbreaker