Circuit Breaker/Metal Switch Combo has vandalproof design.
Press Release Summary: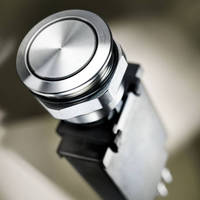 Merging overcurrent protection with pushbutton design, T12-MSM combines circuit breakers, featuring thermal operation (T12) and thermal-magnetic operation (TM12), with MSM series metal switches. Switch housing and actuator, fabricated from stainless steel, are available with mounting diameters of 19 and 22 mm and exhibit IP64 tightness protection and IK07 impact resistance. Switching voltage is 240 Vac/28 Vdc with rated current from 50 mA to 16 A (15 A UL). Multiple options are available.
---
Original Press Release:

Robust Circuit Breaker with Design Appeal



SCHURTER announces the T12-MSM, a unique combination of a reliable circuit breaker and a robust metal switch. With its extraordinary actuating appeal, the T12-MSM, unlike a typical switch, can be stylishly displayed on the front of the system as opposed to being hidden in the back.



SCHURTER combines its circuit breakers, with thermal operation (T12) and thermal-magnetic operation (TM12), with its MSM series metal switches. The T12-MSM creates a market innovation that merges overcurrent protection with an attractive pushbutton design.



The MSM switches are recognized for their visual appeal and operating characteristics. Both the switch housing and the actuator are fabricated from high-quality stainless steel, and are available with mounting diameters of 19 and 22 mm. The actuator and circuit breaker are supplied separate. The switch mounts with a threaded neck. A coupler adjoins the circuit breaker to the switch. Switching voltage is 240 VAC/28 VDC with a rated current from 50mA to 16 A (15 A UL). It is suited for use in a temperature range of -5 °C to +60 °C and comes equipped with auxiliary contact or shunt terminal as well as quick-connect or screw-clamp terminals. The T12-MSM offers a variety of design options including an assortment of colors for ring or point illumination, as well as options for standard or custom inscription.



The T12 and TM12 are reliable circuit breakers with positive trip-free operation. The contacts open even if the reset button is manually held in the closed position. They reliably protect equipment with rated currents from 50 mA to 16 A. The optional magnetic release protects against increased risk of short circuits.



The combination of the T12 circuit breaker and the MSM switch unites all these features in a product that is also extremely robust. With a vandal-proof design, IP 64 tightness protection and IK 07 impact resistance, the T12-MSM is also suited for outdoor applications and use in harsh environments. The look and feel is novel and stands out among other circuit breakers as a true designer piece, suitable for mounting on the front side of the equipment where aesthetics is paramount. The T12-MSM offers unprecedented product-design opportunities for applications where moderate overcurrent can occur. The combination circuit breaker has a wide range of applications including those requiring eletromechanical shielding, outdoor applications, and especially applications with electric motors.



IRWIN Industrial, an authorised distributor of Schurter, was established in 1970 and is an ISO9001:2008-registered supplier of electro-mechanical components and fasteners with warehouses in Alberta, Ontario, Quebec and New York.



For more information

Brad Jolly Marketing & Product Manager 

bjolly@irwin-ind.com

direct: 905-882-3864

cell: 416-518-8338

main: 905-889-9100 ext 262

toll free: 800-263-3562

More from Optics & Photonics