Circuit Breaker is suitable for up to 40 A.
Press Release Summary: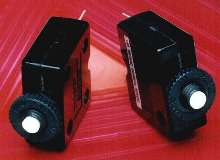 P&B W54 thermal circuit breaker can not be manually tripped. Push-button doubles as reset mechanism and indicator when unit has been tripped. Quick connect .250 in. tabs and #8-32 screws are available for wire termination. M11 x 1.0 thread and 3/8 in.-24 UNF thread is standard. Unit will continuously carry 100% of rated capacity. At 135% of rated capacity, it will trip within 1 hour and its trip time at 200% is 5.0 to 40 sec. Interrupt capacity is 1,000 A per UL 1077.
---
Original Press Release:

Economical Thermal Circuit Breaker from Tyco Electronics Suitable for Up to 40 A


HARRISBURG, Pa., September 13 - Tyco Electronics recently introduced the P&B W54 series thermal circuit breaker. The P&B W54 thermal circuit breaker is an economical design for applications requiring circuit protection in the 5 to 40 amp range. The device cannot be manually tripped, so unintentional interruptions are minimized. A push-button doubles as the reset mechanism and the indicator when the circuit breaker has been tripped. A number of optional nameplates and mounting hardware arrangements are available. The P&B W54 circuit breaker is suitable for a wide range of applications in household appliances, office machines and industrial equipment.

.250" quick connect tabs and #8-32 screws are available for wire termination with several possible configurations. Several mounting arrangements are available with M11 x 1.0 thread and 3/8"-24UNF thread being the standard offerings. P&B W54 circuit breakers will continuously carry 100% of their rated capacity and may trip between 101 % and 134% of their capacity. At 135% of rated capacity, the P&B W54 circuit breaker is designed to trip within one hour and its trip time at 200% is 5.0 to 40 seconds.

P&B W54 circuit breakers have an interrupt capacity of 1,000 amps per UL 1077 and have a resettable overload capacity of ten times the rated current. Reset time is rated at sixty seconds. P&B W54 circuit breakers are UL recognized as a supplementary protector for the United States and Canada.

A 20 amp P&B W54 circuit breaker with quick connect terminals and metal mounting hardware is priced as low as $0.89 each in 10,000 piece quantities. Delivery is four to six weeks. Authorized Tyco Electronics distributors may deliver the P&B W54 circuit breaker from stock.

For more information on P&B W54 series circuit breaker, contact Tyco Electronics' technical support center at 1-800-522-6752 or send e-mail to newproducts@tycoelectronics.com. More information on the web at www.tycoelectronics.com

ABOUT TYCO ELECTRONICS
Tyco Electronics is one of the major business units of Tyco International Ltd. Headquartered in Harrisburg, Pennsylvania, USA, Tyco Electronics is the world's largest passive electronic components manufacturer; a world leader in cutting-edge wireless, active fiber optic and complete power systems technologies; and is also rapidly developing extensive networking and building technology installation services. The company has facilities located in 51 countries serving customers in the aerospace, automotive, computer, communications, consumer electronics, industrial and power industries. Tyco Electronics provides advanced technology products from over forty well-known and respected brands, including Agastat, Alcoswitch, AMP,
AMP NETCONNECT, Buchanan, CII, CoEv, Critchley, Elcon, Elo TouchSystems, M/A-COM, Madison Cable, OEG, OneSource Building Technologies, Potter & Brumfield, Raychem, Schrack, Simel and TDI Batteries.

P&B and TYCO are trademarks

More from Machinery & Machining Tools