Circuit Breaker Analyzer accelerates testing.
Press Release Summary: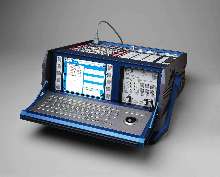 Programma® TM1800 portable analyzer tests high voltage circuit breakers. It can be equipped with user configurable modules for testing circuit breaker control, analog measurements, digital transducers, timing of main and resistor contacts, and auxiliary contact timing. Unit allows on-site testing with built-in Computer Aided Breaker Analysis Local software. Optional calibration module allows measurements in the field to be calibrated to traceable standards.
---
Original Press Release:
New Automatic Circuit Breaker Analyzer from GE Power Systems Accelerates Testing - New Automatic Circuit Breaker Analyzer from GE Power Systems Accelerates Testing

HANNOVER, GERMANY-April 7, 2003-GE Power Systems announced today that its Substation Automation Solutions business has developed the Programma(r) TM1800, a portable Circuit Breaker Analyzer System for testing and analysis of High Voltage Circuit Breakers. The product includes a variety of new features focused on reducing setup and testing time. As a result, end-users can expect their lifetime asset management costs to be reduced. The announcement was made at this year's Hannover Fair.

"The TM1800 has evolved from our successful TM1600 product line," stated Carolyn Shockley, general manager for the Substation Automation Solutions business based in Atlanta, "and its new technology will certainly appeal to our customers in several ways, from its functionality to its financial impact."

"Building on decades of experience and using the latest technology, we've developed a system that makes circuit breaker testing easier and quicker through the multifunctional modules," Shockley stated. "The TM1800 can be equipped with user configurable modules for testing circuit breaker control, analog measurements, digital transducers, timing of main and resistor contacts and auxiliary contact timing."

The TM1800 has numerous advantages. The product is based on a modular concept and it configures to required input and output modules as needed. It allows on-site testing with built-in Computer Aided Breaker Analysis (CABA) Local software. With the optional CABA Win, it is possible to create breaker-specific test plans from your office, download the plans to the TM1800 while on-site to execute the tests. All contact timing channels are analog resistance measurement inputs, reading main and resistor contact as well as linear pre-insertion resistance. The Timing M/R modules measure dynamic and static resistance with minimum connection and breaker operations.

Another valuable feature is the optional calibration module that allows measurements in the field to be calibrated to traceable standards. The TM1800 is functional with or without the calibration module, and as only the module needs to be sent for reference standards, the analyzer is therefore operative at all times.

GE's comprehensive transmission and distribution automation assemblage includes expert services to cost-effectively manage and execute substation automation projects, from design engineering to installation and commissioning. The collection of services is complemented by an assortment of products and solutions such as controllers and intelligent electronic devices (IEDs), portable test equipment, and transformer management systems which enable utility personnel to further improve asset performance and network reliability.

About GE Power Systems

GE Power Systems (www.gepower.com) is one of the world's leading suppliers of power generation technology, energy services and management systems with 2002 revenues of nearly $23 billion. Based in Atlanta, Georgia, GE Power Systems provides equipment, services and management solutions across the power generation, oil and gas, distributed power and energy rental industries.

For more information, contact:

Dennis Murphy

GE Power Systems

(770) 859-6948

dennis.murphy@ps.ge.com

Howard Masto or Gina DeRossi

Masto Public Relations

(518) 786-6488

howard.masto@ps.ge.com

gina.derossi@mastopr.com
More from Fluid & Gas Flow Equipment