Cincinnati Sub-Zero Broadens Capabilities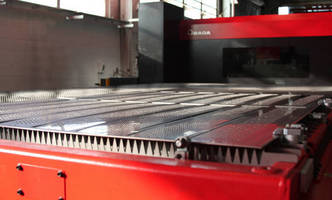 Cincinnati Sub-Zero (CSZ), located at 12011 Mosteller Road, introduces its latest piece of equipment, an Amada sheet metal laser. Installed and running as of December 30, 2012, CSZ's capabilities have expanded. The laser will allow for improved specifications, faster cutting times and continued growth.

"CSZ prides itself on being able to complete every stage of production in-house. Until recently, however, the company had been limited on the size of sheet metal that could be cut, 8ft. long by 4 ft. wide maximum. Now operating, as large as 12 ft. long by 6 ft. wide, CSZ is able to cut down on welding and offer a broader range of chamber sizes," says Operations and Facilities Manager, Alan Scott.

In addition to sizes, there are also many other added benefits. Throughput will dramatically increase, flexibility with custom orders will improve and thicker materials can be used.

The purchase of the laser was vital for CSZ's growth, with sales, especially for large Walk-In chambers, climbing over the last two years. A broader range of options allows CSZ to meet building demands and continue to provide world class temperature management solutions for their customers. To learn more contact CSZ at 513-772-8810 or go to www.cszindustrial.com.

More from Material Processing