CIMdata Brings The PLM Industry's Premier Education and Training Program to The Boston Area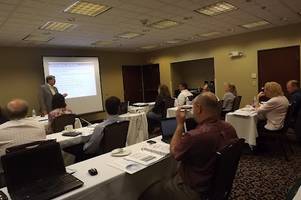 Ann Arbor, Michigan, 10 July 2019-CIMdata, Inc., the leading global PLM strategic consulting and research firm, will bring its highly acclaimed Product Lifecycle Management (PLM) Certificate Program to the Boston area from September 30 - October 4. The program is recognized as the PLM industry's most comprehensive solution-agnostic education offering.
The program helps prepare PLM professionals to successfully address the challenges commonly faced in PLM strategy development and implementation. The assessment-based certificate program includes a personalized classroom experience, individual and team-based exercises, and individual evaluations of achievement. The program is facilitated by a team of CIMdata experts. Upon successful completion of the program, participants receive a CIMdata PLM Certificate and are invited to join CIMdata's global PLM Leadership community.
The program is built on CIMdata's over 35 years of experience guiding industrial companies in successfully defining and implementing best-in-class PLM strategies and tactics. The program is appropriate for industrial companies that are considering PLM or are already implementing PLM, and to PLM solution providers.
Attendees may choose between a five-day program which earns a Standard Certificate of PLM Leadership or a three-day program which earns a Core Certificate of PLM Leadership. Additionally, CIMdata's one-day Executive Short Course and two-day PLM Fundamentals for Solution Providers Short Course will be offered at this time.
For more information on CIMdata's PLM Certificate Program visit our website at https://www.cimdata.com/en/education/plm-certificate-program.
For more information, contact:
Cheryl Peck, Director of Marketing
c.peck@CIMdata.com
Tel: +1 734.668.9922
In Europe, the Middle East & Africa contact:
Gerard Litjens, Vice President EMEA
g.litjens@CIMdata.com
Tel: +31 (0) 495.533.666
About CIMdata
CIMdata, a leading independent worldwide firm, provides strategic management consulting to maximize an enterprise's ability to design and deliver innovative products and services through the application of Product Lifecycle Management (PLM) solutions. Since its founding in 1983, CIMdata has delivered world-class knowledge, expertise, and best-practice methods on PLM solutions. These solutions incorporate both business processes and a wide-ranging set of PLM-enabling technologies.
CIMdata works with both industrial organizations and providers of technologies and services seeking competitive advantage in the global economy. In addition to consulting, CIMdata conducts research, provides PLM-focused subscription services, and produces several commercial publications. The company also provides industry education through PLM certificate programs, seminars, and conferences worldwide. CIMdata serves clients around the world from offices in North America, Europe, and Asia- Pacific. To learn more about CIMdata's services, visit our website at www.CIMdata.com, follow us on Twitter: http://twitter.com/CIMdataPLMNews, or contact CIMdata at: 3909 Research Park Drive, Ann Arbor, MI 48108, USA, Tel: +1 734.668.9922. Fax: +1 734.668.1957; or at Oogststraat 20, 6004 CV Weert, The Netherlands, Tel: +31 (0) 495.533.666.
More from Laboratory and Research Supplies and Equipment