Ci4400 Weather-Ometer® feature touch screen interface.
Press Release Summary: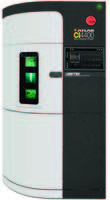 Equipped with filtered xenon-arc lamps, Ci4400 Weather-Ometer® comes with improved rotating specimen rack, tilting screen and new industrial design with large chamber door. Offering improved distribution of irradiance, temperature and humidity within the exposure area, unit is available with optional sensor. Embedded with improved PID control of parameters and deionized water cooling system, unit is designed with status indicator lights and fold-out tray.
---
Original Press Release:
Atlas Introduces its Next Generation Xenon-Arc Instrument - the Ci4400 Weather-Ometer®
Atlas Material Testing Technology, the global leader in weathering technology and services, is excited to announce its next generation instrument in xenon-arc weathering testing - the Ci4400 Weather-Ometer®. This water-cooled, rotating-rack instrument combines Atlas' latest industry-leading innovative technology and user convenience with the scientific sophistication of Atlas' 100 years of weathering expertise.
The Ci4400 replaces Atlas' popular Ci4000 model. According to Atlas Product Manager Matt McGreer, "The Ci4400 represents years of market research, customer feedback and engineering innovation. In developing the Ci4400, our goal was to incorporate several new features and improvements over the Ci4000. The Ci4400 offers a new industrial design, while providing test results consistent with our legacy instruments."
The filtered xenon-arc lamps used in the Ci4400 Weather-Ometer have been globally recognized for years to be the best artificial light source in replicating real- life product failures in a laboratory under accelerated and reproducible conditions.
The Ci4400 meets or exceeds all common weathering test standards. The instrument has an assortment of common pre-programmed test methods as well as custom test slots.
Additional features include:
Best-in-class uniform distribution of irradiance, temperature, and humidity within the entire exposure area
10% increase in specimen capacity within the same footprint as the Ci4000
Larger, more intuitive touch screen user interface
More efficient air flow for better tier-to-tier and within-tier uniformity
Optional sensor to measure irradiance, chamber temperature, and relative humidity at the specimen exposure plane
New industrial design with larger chamber door that allows for better access for routine maintenance and cleaning
Improved rotating specimen rack with removable sections
Tilting screen for easier viewing at different operator heights
Easy-to-see status indicator light
Fold-out tray to accommodate sample racks, lamps, filters, or log books
Improved PID control of parameters for greater reproducibility
New deionized water cooling system for greater reliability
With its new features and advanced design, the Ci4400 Weather-Ometer will meet the needs of current and future industry testing demands.
About Atlas Material Testing Technology - www.atlas-mts.com
Atlas is a leader in materials testing, offering a complete line of weathering testing instrumentation, laboratory, and outdoor testing services. Atlas products are designed and manufactured to conform to international and industry standard test methods, including ISO, ASTM, DIN, JIS and numerous others. Markets include automotive, paint and coatings, plastics and additives, textiles, pharmaceutical and consumer products, architecture, aerospace, photovoltaics, and packaging.
Atlas is a unit of AMETEK Measurement & Calibration Technologies, a division within AMETEK's Electronic Instruments Group, a recognized leader in advanced monitoring, testing, calibrating and display instruments. AMETEK, Inc. is a global leader in electronic instruments and electromechanical devices.
Contact:
Sandra Schneider
Phone: +49-6051-707-160
E-Mail: sandra.schneider@ametek.com
Contact This Company Download Spec Sheet
More from Test & Measurement