Christie Launches D4K40 RGB Laser Projectors with a Contrast Ratio of 5000:1
Press Release Summary: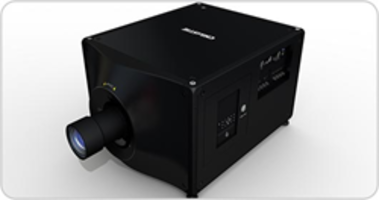 The D4K40 RGB Laser Projectors are designed for complex installation such as theme park attractions and giant screen experiences. The projector features ultra-compact projector head that allows user to install projectors in space constrained environments. The device displays the content in 4K resolutions at 120 fps or 480 fps at 2K resolution via an optional license. They deliver an optimal brightness of over 20,000 hrs and are offered with patented sealed optical path.
---
Original Press Release:
Christie Brings Industry Leading Technology for the Attractions Industry to IAAPA 2018
New RGB laser projection solution, Multiple Point of View and Automated Content Generation on display
CYPRESS, CALIF. (PRWEB) NOVEMBER 24, 2018 - Christie® is bringing its industry leading technology and expertise to IAAPA 2018, from November 13-16 at the Orange County Convention Center in Orlando, Florida.
Christie's projection, display, processing and content management solutions deliver immersive experiences that theme parks count on to create memorable experiences that keep guests coming back. At IAAPA, Christie's latest addition to its lineup of RGB laser projectors is set to launch on November 12, and will be on view in a static display. Engineered specifically for complex installations including theme park attractions and giant screen experiences, this projection solution features an ultra-compact projector head, giving customers the flexibility to install projectors in places and spaces not previously possible. Content can be shown in 4K resolution at 120 fps or an unprecedented 480 fps at 2K resolution via an optional license while delivering more than 90 percent of Rec. 2020 color with 30,000 lumens.
This solution joins the D4K40-RGB laser projector in Christie's lineup of laser projectors. Delivering over 20,000 hours of optimal brightness, 5000:1 contrast ratio, and optional licensed 120 frames per second, the Christie D4K40-RGB also features a new, patented, sealed optical path and is omnidirectional for unlimited install flexibility. For typical installations, this translates into years of stable, uncompromised, virtually maintenance-free operation. Powerful yet energy efficient, the Christie D4K40-RGB operates on single-phase 220V power, making it significantly more cost-effective than competitor models.
"As the Official Projection Systems Provider for Universal Orlando Resort and Universal Studios Hollywood, we understand projection and display solutions for the attractions industry," says Bryan Boehme, executive director, sales, Christie. "Christie's history of innovation continues with the expansion of our lineup of RGB laser projectors. Coupled with Christie's suite of solutions, including LED tiles, Pandoras Box, Terra, Spyder and Mystique, we can help our partners create powerfully immersive experiences for the most demanding applications."
Create content on the fly with Automated Content Generation 
Also on the booth will be a preview of Automated Content Generation, a new tool in development that leverages advancements in artificial intelligence technologies to make content creation more affordable and accessible. Use of reference style templates means that special artistic and production software skills are not required to create a wide variety of custom content. These tools empower creative professionals and AV integrators to produce new content quickly and easily for projection mapping, corporate events and many other AV applications that require custom, creative content.
Create a dynamic experience with MPOV 
Powered by its award-winning Christie Boxer projectors coupled with 3D glasses, Christie will be showcasing a technology demonstration of a Multiple Point-of-View (MPOV) projection system using a four-player game that allows each player to have a unique gaming experience specific to their character, while all four view the same screen. MPOV expands the viewer's experience, with applications beyond gaming including theme park dark rides, design review, and language subtitles.
Christie around the show 
Attendees to IAAPA will see Christie solutions on display around the show floor. A Christie Access Series 75-inch LCD panel will be on show at the TEA booth, No. 1366. Electrosonic, booth No. 867, will have Christie Apex 1.2mm and 1.9mm LED panels powered by Christie Pandoras Box on display, while Falcon's Treehouse, booth No. 2291, will have a Christie Roadster HD14K-M projector and Christie Apex 1.6mm LED panels.
About Christie® 
Christie Digital Systems USA, Inc. is a global visual and audio technologies company and is a wholly-owned subsidiary of Ushio, Inc., Japan, (JP:6925). Consistently setting the standards by being the first to market some of the world's most advanced projectors and complete system displays, Christie is recognized as one of the most innovative visual technology companies in the world. From retail displays to Hollywood, mission critical command centers to classrooms and training simulators, Christie display solutions and projectors capture the attention of audiences around the world with dynamic and stunning images. Visit http://www.christiedigital.com.
Contact Information
Deborah Noon
Christie Digital Systems USA, Inc.
https://www.christiedigital.com/en-us
(519) 749-3109
More from Services