Chipset enables tire pressure monitoring.
Press Release Summary: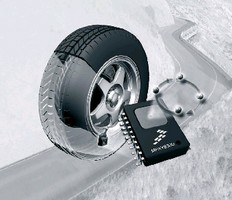 Combining capacitive pressure sensor, 8-bit microcontroller, 2-axis accelerometer, and radio frequency, Model MPXY8300 addresses global motor vehicle safety requirements for tire pressure monitoring. Single-package chipset helps drivers maintain proper tire pressure by instantly notifying them when any individual tire is not at optimum pressure level. System can be programmed to transmit measurements at certain tire rotation speeds and even when tires are not rotating at all.
---
Original Press Release:

Freescale Rolls Out Tire Pressure Monitoring System Built On Industry-Leading Sensor Technology



Intelligent, single-package chipset helps car makers meet global automotive safety requirements with precise tire pressure sensing

MPXY8300 Tire Pressure Monitoring System Signature Graphic

MPXY8300 Tire Pressure Monitoring System-in-Package with Selective Encapsulation Media Protection

TOKYO (Freescale Technology Forum) - Sept. 11, 2007 - Freescale Semiconductor, has introduced the industry's first tire pressure monitoring system (TPMS) containing a capacitive pressure sensor for ultra-low power consumption and precise sensing. Freescale's MPXY8300 system-in-package device provides a highly integrated, cost-effective solution that combines an advanced pressure sensor with an 8-bit microcontroller (MCU), 2-axis accelerometer and radio frequency (RF).

Freescale's MPXY8300 single-package solution is designed to address global motor vehicle safety requirements for accurate, timely tire pressure monitoring. Properly inflated tires can help reduce the potential for life-threatening blowouts, enhance road handling, improve fuel efficiency, prolong tire life and lower the cost of vehicle ownership.

The National Highway Traffic Safety Administration (NHTSA) estimates that 23,000 accidents and more than 500 fatalities a year in the United States involve flat tires and blowouts stemming from improperly inflated tires (over or under inflation). To help curb tire-related accidents in the U.S., NHTSA regulations require new vehicles weighing up to 10,000 pounds to include TPMS technology by model year 2008. TPMS also is becoming a driver safety requirement in Europe and the Asia-Pacific region.

"While TPMS designs have been around for a few years, direct system cost and customer cost-of-ownership remain key concerns for vehicle makers," said Chris Webber, vice president of Strategy Analytics' Automotive Practice. "To achieve improvements in both of these areas, automotive OEMs are looking for highly integrated TPMS solutions, such as Freescale's, that offer excellent low power management for longer battery life and high levels of integration for reduced system cost."

Freescale's MPXY8300 TPMS solution is designed to help drivers maintain proper tire pressure by instantly notifying them when any individual tire (including the spare) is not at the optimal pressure level. Engineered for wheel-mounted applications, the highly integrated MPXY8300 system helps automotive engineers reduce development cycle time, component count and system cost by combining the necessary digital, analog and sensor functions of a TPMS in a single, compact package. In addition to being a leading supplier of 8-bit automotive MCUs, Freescale offers a wide range of high-performance analog, power management, pressure and inertial sensor, and RF devices for automotive applications.

About the MPXY8300 TPMS solution
Freescale's intelligent MPXY8300 system offers precise, real-time tire pressure measurement using direct monitoring at each wheel. Additionally, Freescale's single-package solution has an integrated accelerometer for motion detection. The system can be programmed to transmit measurements at certain tire rotation speeds and even when the tires are not rotating at all.

The MPXY8300 system-in-package device features these key components:
Pressure and temperature sensors for compensating tire pressure
8-bit MCU with 512b RAM, 16 KB flash
XZ-axis accelerometer
RF transmitter
Low-frequency input for receiving diagnostic commands

The MPXY8300 incorporates a number of low-power techniques engineered to help extend TPMS battery life beyond 10-year requirements. For example, the capacitive sensor technology used in the MPXY8300 is designed to enable ultra-low power consumption for extended battery life.

"Freescale's continued innovation in TPMS technology is enabling higher integration and greater functionality for enhanced driver safety and superior vehicle performance," said Paul Grimme, senior vice president and general manager of Freescale's Transportation & Standard Products Group. "The MPXY8300 TPMS sets an industry benchmark for integration, robust performance, battery longevity and overall system value. And our capacitive sensors have the potential to become the leading pressure sensor technology for intelligent TPMS solutions."

MPXY8300 system features
Highly integrated system-in-package device
Pressure sensor with two pressure range options:
Passenger cars: 100-800 kPa
Heavy duty trucks: 100-1500 kPa
Capacitive sensor technology for low power consumption
Accelerometer for motion detection
Power management specific to TPMS for more than 10-year battery life
8-bit MCU with 512b RAM, 16 KB flash and multiple low-power timing functions
RF transmitter with integrated charge pump at 315/434 MHz
Multiple baud rate and modulation scheme
Two-channel LF input with detector/decoder
Over-temperature shutdown
Supply voltage measurement
Low-power wake-up timer and periodic reset driver by low frequency oscillations
Integrated filter design for media protection in harsh vehicle environments
20-pin SOIC wide body package
-40°C to +125°C operating temperature range

Pricing and availability
MPXY8300 samples are available now to select customers, and general market availability is expected in the second quarter of 2008. Suggested per-unit resale pricing (USD) in 10,000-piece quantities:
MPXY8300A for passenger cars with XZ-axis accelerometer at $6.60
MPXY8300B for passenger cars with Z-axis accelerometer at $5.48
MPXY8300C for passenger cars without an accelerometer at $5.22
MPXY8320A for heavy duty trucks with XZ-axis accelerometer at $9.64
MPXY8320B for heavy duty trucks with Z-axis accelerometer at $8.00
MPXY8320C for heavy duty trucks without an accelerometer at $7.63

Freescale plans to offer several development tools in the second quarter of 2008. These tools will contain firmware drivers to speed application development. Key high-level software commands include reading pressure, acceleration, temperature, and battery voltage and interface with the RF transmitter.
For more information about tire pressure monitoring systems, visit www.freescale.com/files/pr/tpms.html.

About Freescale Semiconductor
Freescale Semiconductor is a global leader in the design and manufacture of embedded semiconductors for the automotive, consumer, industrial, networking and wireless markets. The privately held company is based in Austin, Texas, and has design, research and development, manufacturing or sales operations in more than 30 countries. Freescale is one of the world's largest semiconductor companies with 2006 sales of $6.4 billion (USD). www.freescale.com.

Related