Chip Inductors support high frequency electronic circuitry.
Press Release Summary: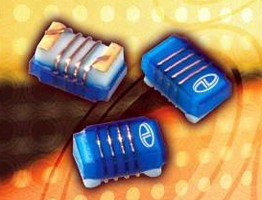 Offered in sub-1 mm² surface mount chip footprint, Model DR354-0 features miniature design that is suited for high frequency circuitry for wide range of electronic equipment. They provide protection against EMI problems in high frequency filtering applications. Measuring 0.64 x 1.19 x 0.66 mm, custom inductors have inductance range of 1.0-68 nH with DCR of 0.054-0.0912 W maximum over 150-1,360 mA maximum current rating, and operating temperature range of -40 to +125°C.
---
Original Press Release:

New Sub-1MM Surface Mount Chip Inductor Supports High Frequency Electronic Circuitry



ROMOLAND, CA-May 22, 2007-With a sleek sub-1mm square surface mount chip footprint, the new DR354-0 Chip Inductors from Datatronic Distribution, Inc., feature a miniature design that delivers superior performance and value in high frequency circuit designs for a wide range of electronic equipment.

The DR354-0 Chip Inductors provide reliable protection against challenging EMI problems in high frequency filtering applications. This miniature wire-wound inductor features a low seated height that stands only 0.66 mm above the circuit board. It protects sensitive electronic circuitry and ensures high performance operation in a wide range of compact devices that are shrinking ever smaller in physical size.

The surface mount DR354-0 Series Inductors are available in a wide range of inductance values to meet the needs of just about any circuit. They are ROHS compliant and in accordance with J-STD-020C, with no lead to prevent damage to the environment.

Delivering both high reliability and high performance, the DR354-0 Inductors are ideal in medical devices, military equipment, hand-held scanners, instrumentation, PDAs and much more. They are especially useful in hand-held gear of all types because of their small size and low profile.

Depending on specific model, the DR354-0 Series Inductors feature an inductance range from 1.0 to 68 nH, with a DCR from 0.054 to 0.0912 Ohms maximum over a maximum current rating from 150 to 1360 mA. They are compatible with extreme temperature environments, ranging from -40 to +125°C.

With their miniature wirewound chip design, the DR354-0 Inductors come in small package size that is 0.64 mm wide by 1.19 mm long by 0.66 high. They are compatible with high-speed pick-and-place assembly equipment, and are also suitable for high-temperature soldering.

Custom designed DR354-0 Inductor packages can be specified to meet unique circuit requirements. The standard configuration DR354-0 Inductors are priced from $0.14 each in typical production volumes. Lead-time is stock to six weeks. Volume OEM pricing is available upon request.

Datatronic Distribution, Inc., manufactures transformers, inductors and many other magnetic devices in standard off-the-shelf as well as custom high-reliability medical and power supply magnetics.

For more information, contact
Datatronic Distribution Inc.,
28151 Highway 74, Romoland, CA 92585,
or telephone toll free 1-888-889-5391, or 951-928-7700
or fax 951-928-7701.

The Product Data Sheet is available for download at: datatronics.com/search.asp?txtSearchText=DR354 Email Datatronic at ddisales@datatronics.com or visit the website at www.datatronics.com