Chime Alerts When Someone Enters the Detection Zone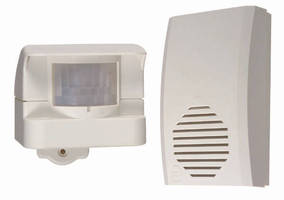 October 14, 2009 - The Wireless Motion-Activated Chime, from STI's Home and Work Series, greets guests with pleasant music while informing you someone has entered the room.

The Chime (STI-46100) has up to 100 foot operating range and a 140° x 40 foot detection zone. Quick and easy to install, simply mount the motion sensor on the wall and plug receiver into any electrical outlet within operating range.

With the simple push of a button, thirteen selectable sounds are available to greet your guests (Dong, Ding Dong, Westminster Chime, Star Spangled Banner, Hail! Hail! The Gangs All Here, Jingle Bells, Auld Lang Syne, Dixie, The Yellow Road of Texas, Happy Birthday, Beethoven's 5th, Joy to the World and Take Me Out to the Ballgame). An activation switch allows the user to select alarm or chime sounds. Sounds can be previewed on STI's website.

For security, the chime offers 32 individual privacy codes to protect against outside interference. Unit requires four "AA" batteries (not included) for operation. Two year limited warranty. For indoor or outdoor use. ETL Listed, FCC Certified.

For more information on STI Wireless Motion-Activated Chime (STI-46100) or the entire Stopper® Line, call 800-888-4784, fax 248-673-1246, email info@sti-usa.com or visit www.sti-usa.com. STI's address is: 2306 Airport Road, Waterford, MI 48327-1209.

More from Electrical Equipment & Systems