Chilling/Heating Dry Bath controls exact sample temperature.
Press Release Summary: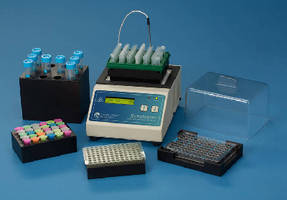 Supplied with temperature probe that is inserted directly into sample or sample block, EchoTherm™ Model IC50 displays and controls temperature to ±0.1°C. Peltier-driven unit can freeze, chill, or heat samples from -10.0 to 110.0°C in assay plates, centrifuge tubes, vials, test tubes, and most any other sample container. Measuring 65 x 8.75 x 3.5 in., IC50 includes countdown timer, surface hot indicator lamp, data logger, and RS232 I/O port to control unit by computer or to record data.
---
Original Press Release:

NEW Chilling/Heating Dry Bath with Sample Temperature Control to 0.1°C from -10.0°C TO 110.0°C



Carlsbad , CA – Torrey Pines Scientific announces its EchoTherm™ Model IC50, Peltier driven, Chilling/Heating Dry Bath with exact sample temperature control. The unit is supplied with a temperature probe to insert directly into the sample or into the sample block.



The probe senses the sample temperature or sample block temperature directly and sends that information to the unit to drive and control the temperature exactly where set.  There also is a sensor in the heater plate for allowing the user to set the plate temperature and use the probe to monitor the sample temperature.



The Model IC50 displays and controls temperature to ±0.1°C. It can freeze, chill or heat samples from -10.0°C to 110.0°C in assay plates, centrifuge tubes of all sizes, vials, test tubes, and most any other sample container.  It is particularly well suited to the molecular biology lab for doing hybridizations, sample prep for PCR, ligations, enzyme reactions and deactivations and much more.



The Model IC50 has digital display and control of temperature to 0.1°C; count down timer in days, hours, minutes and seconds to 30 days; surface hot indicator lamp; data logger; and RS232 I/O port to control the unit by computer or to record data. The compact unit measures 6.5" (165 mm) wide by 8.75" (222 mm) deep by 3.5" (89 mm) tall.  It comes complete with 100 watt chiller/heater module, universal power supply, AC line cord, and instructions.  A variety of over 30 standard sample blocks may be ordered as accessories.  Special blocks can be made for any container in as little as 3 weeks.



The EchoTherm™ Model IC50 is UL, CSA, and CE compliant.



To obtain additional information contact:

Torrey Pines Scientific, Inc.

2713 Loker Avenue West

Carlsbad, CA 92010 USA

Phone: 760-930-9400

Toll Free: 866-573-9104

Fax: 760-930-9480

E-mail: info@torreypinesscientific.com

or visit our Web site: www.torreypinesscientific.com.



Client Contact:

Tony Cassiano 

email: tonyc@torreypinesscientific.com

More from Services