Chicago Metallic SpanAir Ceiling System Delivers "Wow Factor" at Florida's Manatee Technical Institute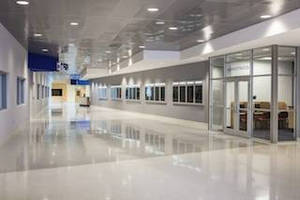 Chicago – Florida's Manatee Technical Institute (MTI) celebrates its 50th anniversary in 2013 with the opening of a new, modern, high-tech Main Campus facility. Students, faculty and visitors are welcomed through the school's impressive two-story lobby featuring Chicago Metallic® SpanAir® metal panel ceiling systems.



Located at 6305 State Road 70 East in Bradenton, Fla., MTI's state-of-the-art $44 million facility boasts 210,000 square feet of space. Designed with the latest energy-efficient construction and teaching technologies, this facility compares with surrounding universities in quality and features.



As the building's main feature, the multi-purpose lobby serves as a 700-person reception area or reconfigured as a 400-seat dining hall. The two-story space directs the eye upward to a sloped, curved ceiling created using Chicago Metallic's products. Acousti Engineering Company of Florida installed approximately 27,000 square feet of SpanAir metal ceiling panels.



MTI broke ground on the project in March 2011. Construction was completed in 18 months. Architectural firm Fawley|Bryant's executive vice president, Michael Bryant, LEED® AP, explains, "This design is meant to attract your attention and have a presence that elevates MTI to its proper position as one of the most well respected technical schools in the country." Realizing the potential and value MTI has for the community, the district committed to creating a new MTI "state-of-the-art, globally recognized campus" in 2003 and, through a competitive interview process, hired the team of Fawley|Bryant and internationally known architects Hellmuth Obata Kassabaum (HOK) to design the new MTI.



"The open space that awaits guests when they first walk into the building and look slightly left is meant to induce the 'wow' factor. Creating a space of unique grandeur was a key element for the architect and general contractor," says Jackie Drake, ASID, IIDA. As a licensed interior designer with Acousti, Drake worked closely with the design team, Chicago Metallic and general contractor The Beck Group to bring this impressive vision to reality.



"It's a massive space. Fawley|Bryant was able to bring it to the next level. They chose a metal ceiling system to maximize the height of the lobby space, follow the curve of the roofline and complement the overall, modern look of the building," describes Drake. "The installation team consisted of true artisans. Chicago Metallic's products were able to encompass all of the project's requirements; providing a custom fit at a good value."



One of Acousti's trusted partners, Jason Wisniewski, works as a manufacturer's architectural representative with Architectural Products, LLP and of Chicago Metallic's products. "We were involved with the project for more than a year, from the early stages of design through to completion. Chicago Metallic's SpanAir products offered a competitive advantage that met all of the client's needs."



"We've worked together with Chicago Metallic for many years," says Carl Needham, Acousti's associate manager. "This project went perfectly smoothly – from the cooperative relationship with have Chicago Metallic's engineering department through the installation on site. It was a great project, very successful."



Contributing to the project's success, Acousti relied on SpanAir Hook-in and Hook-on Planks. These metal ceiling panels provide large-scale concealed metal panels that are easy installed into conventional, exposed suspension systems. These planks seamlessly integrate with lighting, security, air, fire and audio systems. They easily can be removed for plenum access during maintenance or replaced for future renovation needs.



The SpanAir system accommodates either flat or wave designs by using custom and perimeter trim components. EZ Hook-in™ (patent pending) tabs on each plank nest into notched 1-3/8-inch main tee, providing downward accessibility without tools. The planks' square edge design with perimeter gasket on two sides ensures proper alignment, convenient removal and vibration dampening.



"Along with anti-vibration, acoustical enhancement is a cinch with SpanAir's variety of perforation designs and the Acoutex™ backer," states Doug Bernard, Chicago Metallic's regional sales manager in the southern U.S. and Caribbean. "It's a very large space designed to meet numerous functions and sound performance was important."



Drake reiterates this: "In this big open space, the terrazzo flooring was a potential concern for reverberation. By perforating the metal ceiling panels and adding an acoustic backer, we helped improve the sound quality."



Supporting design flexibility, Chicago Metallic manufacturers SpanAir metal ceiling panels in a wide range of widths and lengths, solid or perforated designs, and finish options are available. Supporting to project's environmental goals, Chicago Metallic offers factory-applied powder-coated paints and finishes with no volatile organic compounds (VOCs). For MTI, a standard Satin Silver finish was selected, enhancing the high-tech styling and accentuating the metallic look.



The metal comprising SpanAir planks contain 100% recycled aluminum content. Like the finishes, the aluminum does not contain organic compounds, which mitigates mold and microbial growth. These attributes not only are appropriate for Florida's humid climate, but also contribute to MTI's sustainability goals, which are guided by the U.S. Green Building Council's LEED Rating System. At the end of the ceiling system's useful life, it is 100% locally recyclable.



For MTI's design and building team, economic sustainability goals were as important as environmental sustainability goals. Chicago Metallic Corporation certifies that the SpanAir ceiling systems complies with the 2009 American Recovery and Reinvestment Act, section 1605, Buy American Provisions. Along with supporting products made in the U.S.A., buying domestically helped MTI save labor, time and associated costs, according to Drake.



She elaborates, "Chicago Metallic makes their products here in the States. Not only does purchasing through them support a U.S. company, it shortens the lead-time substantially - about half of the time that their competitors were suggesting. Chicago Metallic helped expedite the whole process."



"The project team worked diligently to make sure ever-changing program needs were met and that the spaces could be converted as technology and curriculum for these important programs evolve," said Jane Dreger, director of Manatee County Schools Department of Construction Services (DCS). DCS is responsible for the administration of the building construction program for Manatee County School District. The new Main Campus building was funded with $4.5 million from a state Department of Education grant and the remainder was generated from a local sales tax.



"The design of the new MTI Main Campus has been an intense and long process, and the dream of many people, including staff, students, community supporters and business partners," concludes Fawley|Bryant's Bryant. "We have all worked together to create the kind of facility this community deserves and needs. …As such, it will become one of the most significant economic drivers for future growth of Manatee County by providing the training of our current workforce and those of our future."



Manatee Technical Institute, Main Campus, 6305 State Road, Bradenton, Florida 34203, http://manateetech.edu/



• Owner: School District of Manatee County; Bradenton, Fla.; http://www.manatee.k12.fl.us

• Architect and interior designer: Fawley|Bryant, Inc. Sarastoa, Fla.; http://www.fawley-bryant.com

• General contractor: The Beck Group; Tampa, Fla.; http://www.beckgroup.com

• Installing contractor: Acousti Engineering Company of Florida; Venice, Fla.; http://www.acousti.com

• Manufacturer's architectural representative: Architectural Products, LLC; Ocala, Fla.; http://www.architecturalproductsllc.com

• Ceiling system manufacturer: Chicago Metallic Corporation; Chicago; SpanAir® Hook-in and Hook-on Metal Plank ceiling panel systems; Chicago; http://www.chicagometallic.com

• Photographer: Mark Borosch Photography



About Chicago Metallic Corporation

Chicago Metallic Corporation is a global provider of architectural building products and services, including ceiling suspension systems, metal ceilings, acoustical and sustainable ceiling panels. Its manufacturing facilities and distribution channels are located throughout North America, Europe, and Asia. Building on a legacy that began in 1893, the people at Chicago Metallic Corporation create enduring relationships and quality products that stand the test of time. With pride in craftsmanship, commitment to customers, and an eye on the future, the company continues to benefit from a culture where people are valued above all else. Learn more by visiting www.chicagometallic.com.



More from Electrical Equipment & Systems