Chicago Metallic® Helps Scioto Downs Win Big with Magna T-Cell Metal Ceiling Systems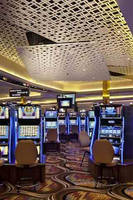 (Chicago) - Part of the winning team in the race to open Scioto Downs, Chicago Metallic® Corporation provided metal ceiling system for the first "racino" of its kind in Ohio.

For more than 50 years, the Scioto Downs facility in Columbus, Ohio has showcased the thrill of harness horse racing. The new 117,000-square-foot facility ushered in a new era of gaming in Ohio. Scioto Downs is the first of Ohio's racetracks to include video lottery terminals (VLTs).

Owned by MTR Gaming Group, Inc., the gaming center's estimated cost totaled more than $150 million and was built on a rapid, two-part schedule. The doors opened on June 1, 2012, just six months after the start of construction. The second phase was completed two months later in August.

Throughout the large, newly constructed facility, Chicago Metallic's ceiling systems helps focus the visitors' attention on the fun and not on the building systems and components that make the casino run smoothly. High above the games and players, the Magna T-Cell(TM) system's open cell design masks the vast stretch of ceiling with staggered elevations, while complementing the gaming area's interior finishes.

"There is nothing typical about this building," emphasizes Paulynn Aguilar interior designer and project manager at Tandem Las Vegas. Tandem specializes in hospitality and gaming interior design and partnered with Scioto Downs' architect-of-record SOSH Architects. "We created two different custom cell patterns. We also used layering, overlapping these custom-patterned cell unit modules, to add to the visual interest. We chose a warm, creamy color that matches the finishes throughout the interior."

"We were able to match the color scheme really well by finishing the Magna T-Cell in a custom tan color. Although it's high in the air, you can still see that it matches the walls and décor. The ceiling system is installed at different levels, almost like clouds, to break up the sizeable, uniform space," describes Jeremy Perchinsky, Chicago Metallic's sales representative. "Because it's an open cell system, you can see through it, so the plumbing and electrical systems above it are painted black."

Beyond aesthetics, one of the determining priorities was the ceiling systems' load bearing capacity, notes Aguilar. "We needed a ceiling suspension system that could handle all of the speakers, cameras and lights that a space like this requires. The density of these suspended systems also varies from area to area, depending on whether we're over a gaming area or an open walkway."

To ensure the Magna T-Cell system met the building team's criteria, Chicago Metallic worked with its distributor, United Building Materials, to provide a mock-up. SOSH Architects and Tandem Las Vegas approved the mock-up and Gilbane Building Company approved Valley Interior Systems as the installing contractor. In total, Valley Interior Systems installed 50,300 square feet of Chicago Metallic's Magna T-Cell systems.

"Chicago Metallic did an excellent job producing and delivering the material in a timely manner, which was faster and quicker than we thought. The project was extremely fast track. We had about a third of the time as would be typical for this type of job. What normally would take six months was condensed into two," says United Building Materials' Jason Krise.

Krise reiterates that timely shipments and staging were critical to the project's successful completion. "Chicago Metallic sent what was needed first and followed with additional material. It worked out very well. They went above and beyond to make sure it was correct and the color matched the surroundings."

Aguilar agrees, "Chicago Metallic's system did exactly what we needed it to do. It handles the weight load. It looks good. It met the accelerated schedule and the budget conscious bottom-line. Overall, it was a good group of people working together, trying to beat a deadline."

Scioto Downs Casino and Racetrack; 6000 South High Street, Columbus, Ohio 43207

· Owner: MTR Gaming Group, Inc.; Chester, W.Va.

· Architect of record: SOSH Architects; Atlantic City, N.J.

· Interior designer: Tandem Las Vegas

· Construction manager: Gilbane Building Company

· Installing Contractor: Valley Interior Systems; Columbus, Ohio

· Distributor: United Building Materials; Ohio

· Ceiling system manufacturer: Chicago Metallic Corporation; Chicago

About Chicago Metallic Corporation

Chicago Metallic Corporation is a global provider of architectural building products and services, including metal panels and ceiling systems, suspended grid systems, and acoustical and sustainable ceiling panels. Its manufacturing facilities and distribution channels are located throughout North America, Europe, and Asia. Building on a legacy that began in 1893, the people at Chicago Metallic Corporation create enduring relationships and quality products that stand the test of time. With pride in craftsmanship, commitment to customers, and an eye on the future, the company continues to benefit from a culture where people are valued above all else. Learn more by visiting www.chicagometallic.com.


More from Health, Medical, & Dental Supplies and Equipment