Chemineer Offers High Efficiency XE-3 Impeller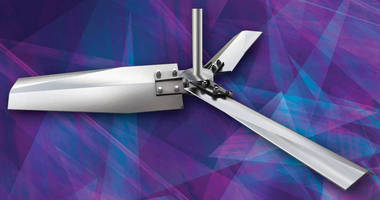 Dayton, Ohio - The Chemineer XE-3 is a high efficiency axial flow impeller for heat transfer, blending and solids suspension applications. Chemineer impeller designs are the result of over six decades of research and applied application experience, resulting in the broadest range of durable and efficient impeller options for its agitators.

The Chemineer XE-3 impeller is as much as 10% more efficient than the highly regarded HE-3 and other high efficiency impellers in turbulent mixing. This improved efficiency can reduce energy costs in both new and retrofit applications. The mechanical design of the XE-3 impeller reduces weight allowing longer shafts without the need for additional support. The Chemineer XE-3 impellers are available in carbon steel, 316/316L stainless, high alloys and with an extensive array of coatings.

Chemineer's impeller technology is effectively applied across a wide range of applications ensuring repeatable results from lab scale to full-scale operations. Chemineer's mixing expertise includes high flow, low shear liquid-liquid/solids blending, gas dispersion, high shear blending and viscous mixing.

Chemineer, Inc., a unit of Robbins & Myers, Inc., is dedicated exclusively to mixing technology and the manufacture of quality equipment for fluid agitation applications. Chemineer has operations in Dayton, OH; North Andover, MA; Derby, England; Mexico, D.F.; Singapore, China, India and Brazil. For more information, visit www.chemineer.com.

Reader service inquiries should be forwarded to Kevin Walsh, Chemineer, Inc., P.O. Box 1123, Dayton, Ohio 45401-1123. Telephone: 937-454-3200. Fax: 937-454-3379.
E-mail: Kevin.walsh@robn.com. For the nearest sales office, call 1-800-643-0641 or visit our website: www.chemineer.com.

More from Thermal & Heating Equipment