Chemical Storage Cabinets Offer Safe Way to Store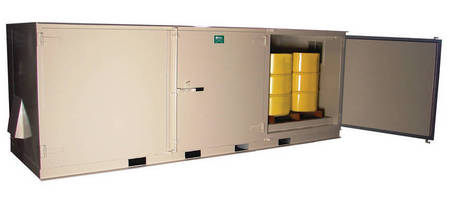 Benko Products, Inc., a leading innovator in spill containment safety products, announces CHEMICAL STORAGE CABINETS as a safe way to store hazardous material.



Benko Products' line of chemical storage cabinets provide high quality and the best technology available to supply safe hazmat storage. Sized for capacities from 4 to 44 drums, these storage units feature modular construction and riveted design for quick design and delivery.



Options include: non-fire rated, 2-hour fire rated, and 4-hour fire rated. There are advanced protective coatings throughout cabinets, an oversized sump capacity and no ground-to-metal contact. Cabinets are easy to move with built-in forklift access points and are completely fabricated and ready to use. 



Benko Products offers a complete line of chemical storage buildings and steel spill containment pallets to suit all of your secondary containment needs.



For more information on Benko Products, Inc., call (440) 934-2180 or go to www.benkoproducts.com.



About Benko Products, Inc.

Benko Products, Inc. is a privately held company based out of Sheffield Village, OH. Benko Products was founded in 1983 by pioneer John Benko, the inventor of the Sahara Hot Box® drum warming oven. Benko's leading product lines also include industrial batch ovens; G-RAFF safety platforms; mezzanine safety gates, chemical storage systems and the GREEN Access & Fall Protection line offering gangways for tank trucks and rail cars as well as self-leveling stair applications.



More from Communication Systems & Equipment