Chemical Sight Gauges can withstand harsh fluids.
Press Release Summary: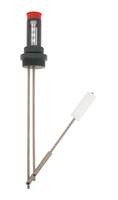 Chemical Sight Gauges are available in H-S3 and PH models. Featuring 316 stainless steel internal rods and aluminum locknut, H-S3 can be mounted to tank with 1.5 or 2 in. tank bushings and can measure up to tank depths of 12 to 120 in. Available with 1.5 or 2 in. tank bushings, PH model is made of high strength PVC gauge card.
---
Original Press Release:
Krueger Sentry Gauge Announces the Release of Two New Chemical Sight Gauge Models Designed for Aggressive Liquid Storage Monitoring.
Krueger Sentry Gauge announces the release of two new classes of chemical sight gauges, the Type H-S3 and PH. These products were developed in response to a need within the industry for a robust tank gauge that could withstand use in harsh fluids.
Some of the design elements that will ensure the commercial viability of these new products include an innovative 3-piece calibration arrangement that is used in both H-S3 and PH models. The H-S3 is part of Krueger's Therma Gauge Stainless Level 3 line and includes an aluminum lock nut at the sight base, with tank mounting provided by either a 1.5" or 2" 316 stainless steel tank bushing. The internal rods and float are also both composed of 316 stainless steel; measuring accurately in tank depths of 12" to 120".
The Type PH falls under the All Plastic Therma Gauge line and is constructed completely from engineered plastics. It utilizes a high strength PVC gauge guard with a choice of a 1.5" or 2" tank bushing. Its all plastic construction continues with an HDPE float and internal rods made from PEEK, or optional Kynar.
Keeping in line with Krueger's complete product offerings, both gauges are available with many options. They include a gauge guard, an audible alarm, and remote level monitoring with Krueger's LED At-A-Glance, which allows tank level monitoring from up to 100' away. Krueger also supplies a full range of replacement parts, detailed instructions, as well as technical support.
About Krueger Sentry Tank Gauge:
Krueger is a leading manufacturer and supplier of tank gauge products. Krueger specializes in liquid level gauges, leak gauges; overfill gauges, and a wide range of related parts and accessories. Located in Green Bay, Wisconsin, Krueger has been serving the industrial tank market since 1942.
Contact This Company Download Spec Sheet
More from Test & Measurement