Chemical Monitoring System employs CVS technique.
Press Release Summary: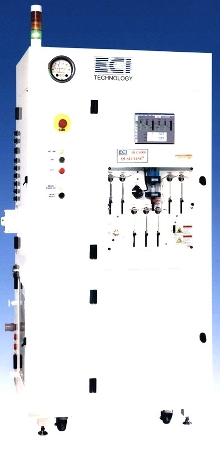 Quali-line QLC-6000 provides on-line chemical monitoring for copper electrodeposition process. Automatic system measures organic additives and inorganic components. Cyclic voltammetric stripping (CVS) technique offers logic based features and analysis development. QLC-6000's Microsoft® Windows® based platform supports GUI and touch screen monitors.
---
Original Press Release:
ECI Technology Introduces the Quali-line® QLC-6000

The next Generation of On-Line Chemical Monitoring Systems

ECI Technology, East Rutherford NJ, has introduced the next generation of on-line chemical monitoring system for the copper electrodeposition process, the Quali-line QLC-6000. The Quali-line QLC-6000 is the newest automatic on-line system for measuring organic additives and inorganic components and represents a major step up from it's previous model, the QLC-5000. The new system takes ECI's patented cyclic voltammetric stripping (CVS) technique to the highest level with new logic based features, analysis developments and hardware design improvements providing real benefits to users.

Specifically, the QLC-6000 has a new Microsoft® Windows® based platform supporting a GUI, a touch screen monitor and improved handling of data. These design features provide up to a 20% increase in speed of analysis, a new enhanced analysis procedure, simplified system operation and enhanced data access and storage capacity. In general, the QLC-6000 is a much more robust equipment design than all previous models of on-line CMS tools with increased system capabilities, efficiency of operation and providing strong economic rational to invest in the system.

ECI has new literature available on the QLC-6000 which provides a complete list of features and benefits on the new system.