Floor, Lift Truck and Conveyor Scales
Checkweighers integrate color touch screen controllers.
Press Release Summary: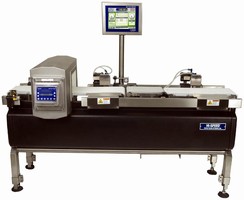 Cornerstone® series, available with 15 in. XS or 5.7 in. XE controller, offers flexible design for food, beverage, chemical, and other consumer product manufacturers producing range of package types. Respectively, XS and XE controllers offer 5 and 3 weight classification zones, 200- and 100 product memories, and configurable user security levels. Checkweighers are available with carbon steel, stainless steel, or sanitary construction and can be connected to plant-wide networks.
---
Original Press Release:

Mettler-Toledo Hi-Speed Introduces Enhanced Cornerstone® Checkweighers



August 24, 2007 - Mettler-Toledo Hi-Speed, Inc. introduces the enhanced Cornerstone® series of checkweighers, which features Mettler-Toledo Hi-Speed's new X-series controllers. Combining the field-proven reliability of Conerstone's mechanical foundation with new modular high performance control platforms, the enhanced Cornerstone checkweighers deliver exceptional weighing accuracy while easing use and simplifying maintenance.

The new X-series controllers are now standard on all new Cornerstone checkweighers. Additionally, Hi-Speed can upgrade its installed base of Cornerstone checkweighers in the field with the new controllers. This upgrade program enables existing Cornerstone users to take advantage of the advanced capabilities and intuitive operation, which the new X-series controllers provide. By updating the electronics, customers extend the life of their rugged checkweighers and maximize their long-term return on investment.

Featuring a new color touch screen control panel, a new embedded industrial PC and extended real-time controller (XRTC), Hi-Speed's new X-series controllers have adopted OMAC standards to ease machine integration. The systems can be easily connected to plant-wide networks using Ethernet, PLC or serial connectivity. A fully integrated Cornerstone checkweigher can be used to control upstream processes, reducing under-fill and over-fill products by providing automatic, real-time feedback to fillers on trends or out-of-tolerance conditions.

The new XS controller offers as standard a large 15-inch (38 centimeters) color touch screen, five weight classification zones, 200-product memory, statistical reporting and exceptional IP69K protection for the display. The new XE controller offers a smaller 5.7-inch (14.5 centimeters) color touch screen, three standard weight classification zones and 100-product memory. Both X-series controllers have configurable user security levels, multilingual operation and extensive online Help screens. The systems can be optionally equipped to handle as many as seven weigh classification zones. The modular XS and XE controllers share common components, which minimize training and reduce spare parts inventory while making maintenance simple and easy.

The Cornerstone checkweighers feature a flexible design that is ideal for many food, beverage, chemical and other consumer product manufacturers producing a wide range of packages including cartons, bags, bars, pouches, jugs and bottles. The heavy-duty Cornerstone checkweighers are designed to withstand tough environments while delivering exceptional accuracies for applications up to 15.4 pounds (7 kilograms). They can be supplied in a variety of configurations including painted carbon steel, stainless steel standard or sanitary construction.

The design includes a center support spine, which is used for mounting interchangeable belts. Easy to clean snap-out conveyors and quick disconnect servo motors further ease belt changeovers as well as cleaning and maintenance.

The Cornerstone checkweighers are available in four standard sizes, each with different belt widths and product weight ranges. A large variety of options for production monitoring, input and detection devices to inspect open flaps, skewed packages, ID input and metal detection can be added to standard units. Additional rejecters can be added for separation of over and under weights. A machine mounted Safeline metal detector can be supplied with a dedicated rejecter for an integrated product inspection system. Mettler-Toledo Hi-Speed can customize the units to perfectly meet the needs of each customer.

About Mettler-Toledo Hi-Speed Checkweigher
Mettler-Toledo Hi-Speed is North America's largest checkweigher manufacturer. In 1981, the company joined METTLER TOLEDO, the world's largest manufacturer of weighing solutions for laboratory, industrial, and food retailing applications, with more than 9,000 employees and $1.6 billion (US dollars) revenue in 2006. Hi-Speed, with sister companies Safeline and Garvens, make up the Mettler-Toledo Product Inspection Team, the world's largest manufacturer and marketer of checkweighers, metal detection devices, and other end-of-line inspection systems serving local and multi-national customers worldwide.

Reader Inquiries:
Terry Eldred, Marketing Specialist
Mettler- Toledo Hi-Speed
5 Barr Road
Ithaca, NY 14850-9117 USA
Tel: 800.836.0836 or 607.257.6000
Fax: 607.257.5232
Email: hispeed@mt.com
URL: http://www.mt.com/hi-speed

More from Cleaning Products & Equipment