Check Valve is available in sizes up to 12 in.
Press Release Summary: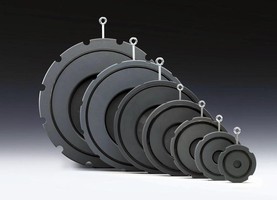 Type 369 Wafer Check Valve includes centering eyelets for fitting and is inserted between 2 standard ANSI or ISO/DIN flanges. Device includes swinging flap-type door and sealing Q ring for compatibility with flat or serrated flanges, and is available in sizes from 1½-12 in. Featuring PVC body and EDOM or FPM seals, valve can include spring option, available in 316 SS or Hastelloy C, enabling it to operate in horizontal position.
---
Original Press Release:

GF Piping's New Wafer Check Valve Features Sizes up to 12-Inches, Vertical or Horizontal Mounting Capabilities, and Easy Installation



TUSTIN, Calif. - June 22, 2007 - Offering expanded application versatility, GF Piping Systems has introduced the Type 369 Wafer Check Valve, the company's first check valve to be offered in sizes as large as 12-inches. This feature, combined with its simple installation ability, unique spring option for horizontal mounting, and excellent flow characteristics, make it an ideal check valve solution for a variety of applications. Suitable uses include aquatics, chemical processing, municipalities, water and wastewater treatment, and water parks.

Check valves, used to allow flow in one direction, typically require glue or tools for installation. GF Piping's Type 369 Check Valve eliminates these requirements - the valve is simply inserted between two standard ANSI or ISO/DIN flanges, making for extremely easy installation or removal in the field. Centering eyelets provide easy fitting, adding to installation simplicity.

For applications requiring horizontal mounting rather than standard vertical mounting where gravity is present, the Type 369 provides a unique solution. Designed with a spring option available in either 316 SS or Hastelloy C, this feature provides the unique functionality of being able to operate in the horizontal position, offering increased application flexibility. For standard vertical mounting, the option need not be ordered.

"Up until now, we have only had a 3-inch check valve solution," explains Brian Gordon, GF Piping Product Manager. "With the new Type 369, our capabilities are vastly expanded with a selection as low as 1-1/2 inches and as high as 12-inches. Additionally, the valve's spring loaded option make it unique to the market," Gordon adds. "Unlike most check valves that must be installed vertically, this feature allows the valve to be installed horizontally - an important advantage in certain applications."

The Type 369 also offers significantly improved flow characteristics when compared to ball-type check valves. With ball check valves, liquid circulates around the ball during opening or closing, causing flow restriction and pressure drop. In some applications, this might be a critical disadvantage. The Type 369 wafer check design incorporates a swinging flap-type door that is less restrictive than a ball check style, providing enhanced flow characteristics.

The Type 369 Wafer Check Valve is available in sizes 1-1/2" - 12" and is available with a PVC body and EPDM or FPM seals. A specially designed sealing Q ring makes it compatible with flat or serrated flanges. Competitively priced, the Type 369 Check Valve meets ANSI and ISO/DIN standards.

GF Piping supplies a full range of plastic pipe, fittings, tubing, valves, actuators, rotameters, fusion machines, secondary containment, tank linings, heat exchangers, custom products, and sensors and instrumentation for industrial process control. For further information, please contact George Fischer, Inc., 2882 Dow Avenue, Tustin, CA 92780-7258; Toll Free (800) 854-4090, Fax (714) 731-6923; e-mail: us.ps@georgfischer.com; Web: www.us.piping.georgefischer.com

All trademarks are the property of their respective companies.

More from Electrical Equipment & Systems