Check Valve features extra long threaded connections.
Press Release Summary: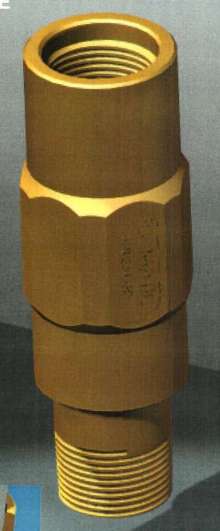 Enviro Check® Model 100XLE submersible pump check valve has unleaded bronze cast body with Flow Fin(TM) poppet assembly. It offers extended threaded lead-in to support PVC drop pipe in addition to longer male and female threads. Valve is water tested and has working water pressure rating of 400 psi. It is suited for water, fuel oil, and diesel fuel applications.
---
Original Press Release:

Submersible Pump Check Valve Model 100XLE


Glens Falls, NY- September 4, 2003 Danfoss Flomatic Corporation, introduces a new submersible pump check valve body Model 100XLE with extra long threaded connections for use with special PVC drop pipe and other applications where extra length is needed. This new product features an unleaded bronze cast body with a patented Flow Fin(TM) poppet assembly. The new Model 100XLE check valve model also has extended threaded lead-in to support PVC drop pipe in addition to longer male and female threads. Their exclusive check valves are "Made in America" to precise dimensions and come with a 5-year warranty. Every valve is water tested and has a working water pressure rating of 400 PSI. The Unleaded Enviro Check® valves are designed to comply with California Proposition 65, the most stringent of state and proposed EPA guidelines for reduced lead content and lead leaching. The Model 100XLE check valves feature durable internals for applications and are suitable for use in water, fuel oil and diesel fuel. Danfoss Flomatic manufactures other check valve models for the water well industry that come in a variety of configurations with a size range from ¼" through 10" such as Series 80E, 100E, and 60SE. The new valve is another addition to the most complete check valve package in the industry.

For more information, or a copy of the bulletin #CV 100XLE or other valve products please call Danfoss Flomatic Corporation at 1-800-833-2040. You can also obtain information interactively through their Valve Active Fax® service at 1-800-319-4645, their at website www.flomatic.com or email them at flomatic@flomatic.com

More from Construction Equipment and Supplies