Charm Sciences Awarded USDA-FGIS Certificate of Conformance for Three Minute Aflatoxin Test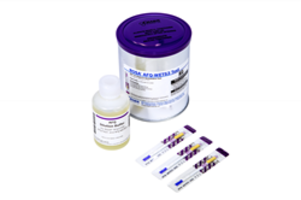 ROSA® WET®-S3 Aflatoxin Quantitative Test Reapproved for Detection of Aflatoxin in Corn
Lawrence, Mass. (PRWeb) July 25, 2019 -- Charm Sciences, Inc. is pleased to announce that its ROSA® WET®-S3 Aflatoxin Quantitative Test (AFQ-WETS3) has been reapproved by the United States Department of Agriculture's Federal Grain Inspection Service (USDA-FGIS) for the detection of aflatoxin in corn. The test was awarded a Certificate of Conformance by FGIS, indicating that it meets all FGIS performance requirements, and may be used for official inspection. The AFQ-WETS3 test was first approved by FGIS in 2016.
The AFQ-WETS3 test uses Charm's Rapid One Step Assay (ROSA) lateral flow technology to deliver highly accurate results in three minutes. The easy-to-use ROSA technology is further enhanced by Charm Sciences' Water Extraction Technology (WET), which uses water as an extraction solvent, as opposed to ethanol or methanol, allowing negative tests to be discarded as regular waste.
"The reapproval of AFQ-WETS3 demonstrates Charm's commitment to provide the fastest water-based test for the quantitative measurement of aflatoxin in corn," says Mark Tess, Ph.D., Mycotoxin Product Manager. "This test is one of five mycotoxin tests using water for the safe and simple extraction of mycotoxins from grains."
All Charm ROSA mycotoxin tests are run on the versatile Charm EZ®-M system, which further speeds up the testing process. The Charm EZ-M system allows incubation and analysis with the same equipment and is robust enough that tests can be run at the point of receiving. Charm ROSA mycotoxin tests are available for the detection of aflatoxin, DON (vomitoxin), fumonisin, ochratoxin, T-2/HT-2 toxins, and zearalenone.
About Charm Sciences, Inc.
Established in 1978 in Greater Boston, Charm Sciences helps protect consumers, manufacturers, and global brands from a variety of issues through the development of food safety, water quality, and environmental diagnostic tests and equipment. Selling directly and through its network of distributors, Charm's products serve the dairy, feed and grain, food and beverage, water, healthcare, environmental, and industrial markets in more than 100 countries around the globe. https://www.charm.com
Contact Information
Steve Holmes Charm Sciences, Inc.
+1 978.687.9200
More from Mounting & Attaching Products