Charging Generator suits pressroom and bindery operations.
Press Release Summary: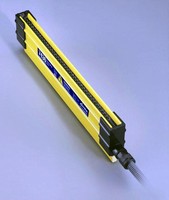 With microprocessor-based 30 kV 5 mA dc power supply, Model 7305 Charging Generator provides timed charge action, output level alarms, remote output control, and 3 modes of output control. High-performance 7430 charging bars with tungsten electrodes help achieve high charging currents, while electrode resistors help prevent formation of high-voltage arcs. All internal components are encapsulated in special fiber-reinforced resin body.
---
Original Press Release:

New Electrostatic Charging Generator for Pressroom and Bindery Applications



New charging equipment offers greater pinning power for a variety of demanding applications in pressroom and bindery.

(Windsor Locks, Conn.) The new charging systems from MKS, Ion Industrial and Tantec Static Control are specifically designed for the demands of pressroom and bindery operations, including subscription card tacking, magazine tacking on incline stackers, including UV coated magazines, ribbon tacking, and for chill-roll tacking to eliminate condensate build-up on a chill roll.

Operating versatility is provided by the 7305 Charging Generator, a microprocessor-based, 30 kilovolt, 5 milliampere DC power supply available in three output versions: negative, positive or dual-polarity. This fully-programmable generator can provide timed charge action, output level alarms, remote output control, and three modes of output control.

Special high-performance 7430 charging bars feature long-lasting, tungsten electrodes in a unique spacing configuration to achieve charging currents 20 percent higher than industry-standard bars. Special electrode resistors help prevent formation of high-voltage arcs. All internal components are encapsulated in a special fiber-reinforced resin body. Mounting holes, located on a structural rib along the back of the bar, allow using metal hardware for simplified retrofitting into existing machines. The 7305 Charging Generator is well suited to handle multi-bar 7430 Matrix Chargers for most demanding applications.

MKS, Ion Industrial: 888-310-3334 http://www.ion.com/industrial

MKS, Ion Systems has more than 20 years of experience in the design and manufacture of ionization products for the control of static charge in manufacturing processes. Having previously and primarily served high tech manufacturing, Ion Systems formed Ion Industrial to service the paper and film converting and plastics industries in 1997. In 2005, Ion Industrial acquired Tantec Inc., a well-established manufacturer of electro-static products for the commercial printing and graphics arts, film and plastics industries. In 2006, Ion Industrial became a part of the Ionization Group of MKS Instruments. For additional information on Ion Industrial, please contact Mark Blitshteyn, vice president, at (860) 292-6847 or visit Ion's web site at http://www.ion.com/industrial.

About MKS Instruments, Inc.
MKS Instruments is a leading worldwide provider of process control solutions for advanced manufacturing processes such as semiconductor device manufacturing and thin-film manufacturing for flat panel displays, optical storage media, architectural glass and electro-optical products. MKS also provides technology for medical imaging equipment and industrial applications. Through sophisticated technologies to power, measure, control and monitor increasingly complex manufacturing processes, MKS helps improve productivity and return on capital investments. www.mksinst.com

For more information, contact:
Mark Blitshteyn, Vice President,
MKS, Ion Industrial
888-310-3334
E-mail: industrial@ion.com

More from Software