Charge Pump Driver enables PWM dimming for LED backlighting.
Press Release Summary: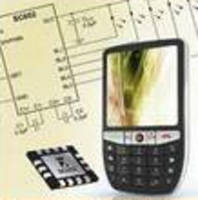 Model SC652 supports up to 5 LEDs with 1 PWM dimming input, while SC656 supports up to 7 LEDs with 1 or 2 independent PWM dimming inputs. Both integrate digital low-pass filters that convert PWM dimming signal's duty-cycle into DC current for LCD backlighting with white LEDs. Drivers PWM inputs accept 200 Hz to 50 kHz PWM signals with logic level of 1.4 V and above. Input supply voltage range is 2.9-5.5 V and units have charge pump modes of 1x, 1.5x, and 2x.
---
Original Press Release:

Semtech Adds Advanced PWM Dimming Interface to Tiny Charge Pump Platform for LED Backlighting in Handheld Devices



Semtech Corp. (Nasdaq: SMTC), a leading supplier of analog and mixed-signal semiconductors, today announced the SC652 and SC656 LED backlight charge pump drivers. As new members of the SC65x tiny charge pump platform, these devices are the industry's first LED drivers to integrate digital low-pass filters that convert a PWM dimming signal's duty-cycle into DC current for LCD backlighting with white LEDs.
Both parts are optimized for single-cell Li-ion battery handheld applications. The SC652 supports up to five LEDs with one PWM dimming input. The SC656 supports up to seven LEDs with one or two independent PWM dimming inputs for end products that have multiple zones of lighting.

Recently, PWM dimming has become more popular due to its flexibility, cross-platform firmware compatibility, and extensive use in advanced power saving schemes such as ambient light sensing (ALS) and content adaptive brightness control (CABC). However, most competing PWM dimming solutions simply turn on and off the LED current in synchronization to the PWM signal, resulting in three distinct negative effects: 1) increased voltage ripple on the input and outputs of the LED driver, which can couple noise into nearby circuits, 2) decreased efficiency because the LED forward voltage remains high even when dimming, and 3) potential display flicker, banding, or herringbone pattern noise due to the LED light interfering with the LCD refresh rate.

For these reasons, some competitors rely upon external R-C filters to convert the logic-level PWM dimming signal into an analog signal, which can be injected into a feedback or setting node at the LED driver IC. Beyond just the added external components, the weakness of such solutions is that the PWM logic high and low levels, which are not accurate, will significantly influence the backlight brightness, causing large errors that are especially visible at dim levels.

The SC652 and SC656 are the first devices to fully solve the above issues without the addition of any external components. Semtech's proprietary digital low-pass filter samples the PWM dimming signal to extract the duty cycle information and maps this into the current setting DACs. The PWM input accepts 200Hz to 50kHz PWM signals with logic level of 1.4V and above. LED current is linearly proportional to duty-cycle from 1% to 100%, while 0% duty-cycle places the IC into 0.1uA shutdown. Under all conditions, LED current remains DC to minimize input/output ripple, reduce LED forward voltage to allow the 1x/1.5x/2x charge pump to operate in the most efficient mode possible, and to eliminate any possibility of interference with the LCD refresh rate. In addition to these critical benefits, the PWM dimming filter inherently responds to sudden changes in duty-cycle with an aesthetically pleasing automatic fade up/down in LED brightness to add a high-quality feel to the end product without needing any special software subroutines in the host system processor.

"Our highly advanced PWM dimming interfaces in the SC652 and SC656 provide real value to our customers by solving three potentially serious concerns while adding an elegant fade effect and requiring no external components," said Karl Volk, Semtech Director of Marketing for Handheld Power. "We plan to further expand our platform of tiny LED backlight drivers with more products that incorporate this unique digital low-pass filter to differentiate our products in the handheld market space."

The SC652 is available in 2x2mm lead-free 14-pin MLPQ-UT package. The SC656 is available in 3x3mm lead-free 20-pin MLPQ-UT package. Both devices are halogen-free and comply with the European Union's Restriction on Hazardous Substances in Electrical and Electronic Equipment (RoHS) directive to meet worldwide environmental and regulatory requirements.

Key Features of the SC652 and SC656

o Input supply voltage range - 2.9V to 5.5V

o Charge pump modes - 1x, 1.5x and 2x

o Five (SC652) or seven (SC656) adjustable current sinks

o PWM dimming with integrated digital low-pass filter for DC LED current

o Resistor programmable full-scale current range up to 25mA/LED

o Current accuracy ±1.5% typical

o Current matching ±0.5% typical

o Two optional zones/banks of LED current settings for SC656

o Automatic fade-in/out for smooth transitions when changing LED brightness

o Ultra-thin MLPQ package - 2x2x0.6mm (SC652) or 3x3x0.6mm (SC656)

Pricing and Availability

The SC652 (Order code: SC652ULTRT) is priced at $0.55 each in 3,000-piece lots. The SC656 (Order code: SC656ULTRT) is priced at $0.71 each in 3,000-piece lots. Each device is available immediately in production quantities. Evaluation boards (SC652EVB and SC656EVB) are also available. Semtech offers comprehensive design assistance, including field- and factory-based support. Data sheets, volume pricing, and delivery quotes, as well as evaluation kits and samples, are available by contacting info@semtech.com.

About Semtech

Semtech Corporation is a leading supplier of high-quality analog and mixed-signal semiconductor products. The company is dedicated to providing customers with proprietary solutions and breakthrough technology in power management, protection, test & measurement, advanced communications and wireless connectivity products. Publicly traded since 1967, Semtech is listed on the NASDAQ National Market under the symbol SMTC. For more information, contact Semtech Corp. at 200 Flynn Road, Camarillo, CA 93012-8790; phone (805) 498-2111; email to info@semtech.com; or visit its web site at www.semtech.com.

Related