Chamber Port Plugs fit 3, 4, and 6 in. diameter openings.
Press Release Summary: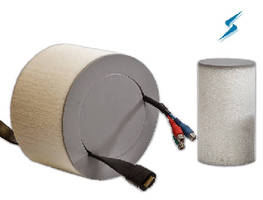 Designed for Environmental Test Chambers, E-Plug™ Chamber Port Plugs press fit into access openings to seal against air, humidity and temperature escape, or ambient air entry into testing environment. Standard E-Plugs™ are made from 4 in. thick silicone foam with .125 in. thick closed cell silicone foam skin on one side, while Semi-Custom E-Plugs™ are fabricated from pre-made 4 in. thick silicone foam sheets with skin on one side. Foam remains flexible at temperatures from -67 to +392°F.
---
Original Press Release:

Chamber Port Plugs for Environmental Test Chambers Available in Off-the-Shelf Standard Sizes and Semi-Custom Shapes



Stockwell Elastomerics now provides silicone foam port plugs for Environmental Test Chambers. Three (3) standard sizes to fit 3", 4" and 6' diameter openings are available from inventory for immediate shipment and Semi-Custom shapes can be cut quickly from pre-made bun stock for prompt delivery.



Philadelphia, PA -- Stockwell Elastomerics announces the availability of E-Plug™ Chamber Port Plugs (http://www.stockwell.com/foam-port-plugs.php) fabricated from lightweight silicone foam with a flexible closed cell skin surface on one side. E-Plugs™ are designed to press fit into access openings on Environmental Test Chambers to seal against air, humidity and temperature escape, or ambient air entry into the testing environment.



Standard E-Plugs™ are produced from 4" thick lightweight silicone foam with a .125" thick closed cell silicone foam skin on one side. Silicone foam (http://www.stockwell.com/silicone-foam.php) remains flexible and resilient at temperatures from -67°F to +392°F, and the materials are inherently flame retardant to address facility safety concerns. Test engineers and laboratory managers benefit from reduced downtime when replacements can be supplied from off the shelf standard sizes. Standard E-Plugs™ are ready to ship in 4" thick silicone foam in the following sizes:



• E-Plug™ 3 – for 3" diameter port openings (3.25" OD actual)

• E-Plug™ 4 – for 4" diameter port openings (4.25" OD actual)

• E-Plug™ 6 – for 6" diameter port openings (6.25" OD actual)



Semi-Custom E-Plugs™ are fabricated quickly from pre-made 4" thick silicone foam sheets with skin on one side. Sizes ranging from E-Plug™2 – for 2" diameter port openings (2.25" OD actual) up to E-Plug™8 – for 8" diameter port openings (8.25" OD actual) can typically be provided in a few days. Rectangular E-Plugs™ to fit a variety of rectangular and square openings can be provided quickly as well.



Additional options for Semi-Custom E-Plugs™ can include reinforced silicone pull handles, internal concentric cuts to facilitate cables, sealed side edges for high humidity requirements and ESD edge coating to reduce static build-up. Each of these semi-custom features can be developed in discussions with Stockwell Elastomerics' Applications Engineering team.



"The E-Plugs™ Chamber Port Plugs product line leverages our core competence in silicone fabrication and provides a great value to electronic, IC and laboratory test technicians who need high performance and reliability from their environmental test chambers " said Stockwell Elastomerics' President Bill Stockwell. 



About Stockwell Elastomerics, Inc.

Stockwell Elastomerics' core competence is the fabrication and molding of silicone rubber (http://www.stockwell.com/silicone-rubber.php) and similar high performance elastomers. On-site production capabilities include adhesive lamination, slitting, die cutting, water jet cutting and custom molding.  An extensive on-site inventory of silicone rubber sheet materials, such as silicone foam, closed cell silicone sponge and solid silicone rubber enables the privately held company to operate its Rapid Response model. Many Stockwell Elastomerics customers take advantage of water jet cutting for fast turn prototypes and initial production. Stockwell Elastomerics, Inc. is ISO9001-2008 registered.



Additional information about the E-Plugs™ Silicone Foam Chamber Ports Plugs can be viewed at http://www.stockwell.com/foam-port-plugs.php. Contact Stockwell Elastomerics Applications Engineering or visit

http://www.stockwell.com for complete information on silicone rubber products, custom fabrication and molding.



Contact:

Bill Stockwell

Stockwell Elastomerics, Inc.

4749 Tolbut Street

Philadelphia, PA  19136

(215) 335-3005

Email: service@stockwell.com or wbstockwell@stockwell.com

Website: www.stockwell.com

Blog: http://elastomerics-blog.stockwell.com/

LinkedIn: http://www.linkedin.com/company/stockwell-elastomerics

Facebook: https://www.facebook.com/StockwellElastomerics

Google+: https://plus.google.com/+StockwellElastomerics

YouTube: http://www.youtube.com/StockwellElastomeric

Twitter: http://twitter.com/StockwellElasto