Chain Oils can signficantly extend chain life.
Press Release Summary: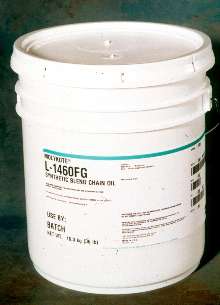 Molykote® Chain Oils use synthetic-based formulations that provide resistance to oxidation and emulsification. Tackifier prevents dripping and/or oil throw-off from spinning chains. Molykote L-1460FG blends polyalpha olefin synthetic oil and ultra-high purity mineral oils for high wash-down applications at room temperature. Molykote L-1468FG neat PAO has pour point of -60°F and is suited for chain applications in blast freezers below 0°F.
---
Original Press Release:
Chain Oils that Extend Chain Life Better Than Conventional Lubricants in High-Washdown Conditions, Blast Freezers Available from Dow Corning

Molykote® Chain Oils Resist Emulsification; Feature Unique Tackifier To Prevent Dripping, Throw-off

MIDLAND, Mich. - March 13, 2003 - Chain oils that can significantly extend chain life better than conventional lubricants are available from Dow Corning Corp.

The extended chain life made possible by Molykote® brand chain oils is due to the use of synthetic-based formulations that provide superior resistance to emulsification, and a proprietary tackifier that prevents dripping and/or oil "throw-off" from spinning chains-a problem associated with conventional oils. Unlike competitive additives, the unique tackifier in Molykote chain oils also helps prevent corrosion by adhering the oil to metal surfaces without thickening the oil or compromising its lubricity while permitting the oil to penetrate chain interiors to lubricate pins, bushings, and side plates.

Molykote Chain Oil L-1460FG is a blend of both polyalpha olefin (PAO) synthetic oil and ultra-high purity mineral oils designed for high wash-down applications at room temperature. Molykote Chain Oil L-1468FG is a neat PAO that has a pour point of -51°C (-60°F) and is designed for chain applications in blast freezers below -18°C (0°F). As a result, this freezer-grade formulation eliminates problems associated with conventional lubricants that tend to become "stiff' in extremely cold temperatures and prevent chains from straightening out, which causes chain sticking and "jumping." In doing so, Molykote oils reduce wear that extends equipment life and reduces costly maintenance and downtime. Both oils have USDA H-1 designations, and the viscosity of Molykote chain oils meets the requirements of chain manufacturers as specified by ISO 68.

Molykote chain oils provide exceptional life in high-moisture environments such as those found in the food processing and pulp & paper industries as well as hot, humid climates. They are suited for both conveyor and drive chains used on processing, warehousing, and packaging machinery.

In addition to the fact that conventional mineral oils are sensitive to emulsification, the reason Molykote chain oils provide better performance is because they are produced using a different manufacturing process. Mineral oils are typically produced using a solvent-based refining process, which tends to retain a significant amount of impurities that can provide many sites to attract water as well as cause oxidation, acid development and premature aging of the oil.

By comparison, Molykote synthetic lubricants and mineral oils are made by chemically building complex molecules from hydrocarbon "building blocks" that feature identical, strong molecular bonds in a saturated molecular structure. This structure produces ultra-high purity oils that provide increased resistance to oxygen attack. In addition, the super-saturated molecules that result from this process have no sites to attract water, so the oil is better able to resist emulsification in high-moisture environments than conventional fluids. As a result, Molykote chain oils' resistance to oxidation and emulsification results in longer service life, more efficient lubrication, and reduced formation of undesirable by-products in the lubricant.

Both chain oils are part of the Molykote Total Industrial Lubrication Consolication Program from Dow Corning, which offers a comprehensive package of lubricants and related services designed to help customers reduce overall maintenance costs, extend equipment life, and simplify the purchasing process by consolidating all lubrication-related activities with one supplier. It is available through Dow Corning's channel partners, which have more than 3000 field locations.

For more information about Molykote brand chain oils, or Dow Corning's complete line of Molykote high-performance industrial lubricants, as well as product literature, contact www.Molykote.com , or e-mail industrial@dowcorning.com.

About Dow Corning

Dow Corning currently offers more than 7,000 products to customers around the world. Dow Corning is a global leader in silicon-based materials with shares equally owned by The Dow Chemical Company and Corning Incorporated. More than half of
Dow Corning's sales are outside the United States. Molykote has been a well-known brand for industrial lubrication throughout Europe and Asia since the 1950s.

Molykote and Dow Corning are registered trademarks of Dow Corning Corporation.
More from Communication Systems & Equipment