Chain Hoists facilitate installation via direct connection.
Press Release Summary: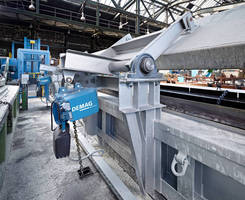 Able to be controlled directly via line supply for reliability, DC-ProDC units come in 7 sizes and load capacities from 176–11,023 lb. Lifting speeds range, depending on load capacity, from 16–96 fpm. Also able to be operated with Demag DSK or DST control pendants, hoists have integrated terminal strip that enables direct connection into customer installations. Operating limit switches can be employed to cut off lifting motions, and tugged design enables operation up to 80°C.
---
Original Press Release:

Simple and Direct Integration: Demag DC-ProDC Chain Hoists



• Installation components for direct control

• Rugged hoist engineering for arduous applications

• Load capacity up to 5 t



Cleveland, USA. — Terex Material Handling is offering a further model within its Demag DC chain hoist family for direct integration into customers' installations. DC-ProDC units feature direct control offering a reliable solution for many applications, e.g. for raising and lowering lifting doors or furnace lids also at high ambient temperatures. Direct-controlled Demag DC-ProDC chain hoists are also employed wherever a customer wants to refurbish an existing installation and needs a simple lifting solution in which the chain hoist is to be controlled by an existing control system with a line supply.



DC-ProDC chain hoist: direct control for loads up to 5 t

DC-ProDC chain hoists with direct control are available in seven sizes with load capacities between 80 kg (176 lbs) and 5,000 kg (11,023 lbs). Depending on the load capacity, lifting speeds range from 4 m/min (16 fpm) to 24 m/min (96 fpm). The chain hoist can be controlled direct via a line supply. A terminal strip integrated in the unit provides for direct and simple connection. Alternatively, DC-ProDC units can also be operated with Demag DSK or DST control pendants. Operating limit switches can be employed to cut off the lifting motions. As for all other chain hoists in the DC product family, the gearbox of units with direct control is also maintenance-free for up to 10 years.



Rugged and reliable also at higher temperatures

Thanks to their advanced engineering, DC-ProDC chain hoists with direct control can also be employed under extremely arduous ambient conditions and at very high temperatures. The rugged design provides for operation at temperatures up to 80°C and offers ease of maintenance.



The Demag product configurator (Hoist Designer) can be used to specify a chain hoist with direct control. This user-friendly online planning tool enables a large number of possible variants to be configured to select the right hoist unit and then order it direct via the Demag Shop system with only a few clicks.



About Terex Material Handling

Terex Corporation is one of the world's leading suppliers of crane technology with Demag industrial cranes and crane components. The core competence of the Terex Material Handling business group lies in the development, design and production of technically sophisticated cranes, hoists and components and the provision of services for these products. The business group manufactures in 16 countries on five continents and is present in more than 60 countries, reaching customers in more than 100 countries.



About Terex Corporation

Terex Corporation is a diversified global manufacturer engaged in the mechanical and plant engineering sector. A core activity of Terex Corporation is the provision of reliable, customer-driven solutions for many applications, including the construction, infrastructure, shipping, transportation, quarrying, mining, refining, energy, utility and manufacturing industries. Terex reports in five business segments: Aerial Work Platforms, Construction, Cranes, Material Handling & Port Solutions and Materials Processing. Terex Financial Services offers a wide range of products and services to assist in the acquisition of Terex equipment. Please visit our websites at http://www.demag-us.com and www.terex.com for further information.

More from Software