Ceramic Inductors target aerospace and military markets.
Press Release Summary: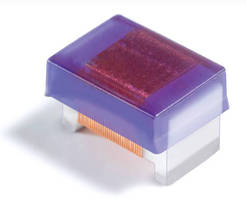 Suited for mission-critical applications, ML Series 0603-size inductors offer inductance values of 47 nH to 22 µH and Q ratings as high as 50 at 250 MHz with self resonant frequencies as high as 16 GHz. Ceramic construction provides high current handling, while high-temperature encapsulant enables operation in ambient temperatures from -55 to 155°C. Featuring COTS Plus, tin-silver-copper, and tin-lead terminations, units offer MTBF of 1 billion hr.
---
Original Press Release:

Inductors Tackle Aerospace and Military Applications



Coilcraft CPS (Critical Products and Services Group) has launched a new series of 0603-size ceramic inductors, targeting the aerospace and military markets. These
robust components are manufactured to meet the special requirements of these demanding applications.

The Coilcraft CPS ML Series offers higher inductance values than other 0603 inductors, keeping board space to a minimum. Inductance values range from 47 nH - 22 µH.

Q ratings are as high as 50 at 250MHz with Self Resonant Frequencies as high as
16 GHz. Ceramic construction provides high current handling, while a high-temperature encapsulant allows operation in ambient temperatures from -55°C to 155°C.

MTBF is 1 billion hours.

ML Series inductors are designed, manufactured and tested to ensure their suitability
for mission-critical applications and for use in adverse environmental conditions.
COTS Plus, tin-silver-copper and tin-lead terminations are featured for long-term reliability. Additionally, components can be certified to meet specific customer requirements.

Coilcraft CPS is the Critical Products and Services Group of Coilcraft Corp. Coilcraft CPS focuses on applications that require the highest degree of robustness and longevity such as aerospace, military and medical. Products are designed, manufactured and tested to ensure their suitability for life-critical applications and for use in adverse environmental conditions. The components are processed and tested for extremes far exceeding ratings of standard commercial parts.

The ML Series is available with 30 day delivery.
For more information visit:
www.coilcraft-cps.com.

Data Sheet available at: http://www.coilcraftcps.com/pdf/ML312RAG.pdf

Coilcraft Critical Products and Services
1102 Silver Lake Road,
Cary IL 60013 USA
+1-847-639-2361,
Fax +1-847-639-1469,
E-mail:cps@coilcraft.com

More from Electronic Components & Devices