Ceramic Bearings: "The Talk of the Town"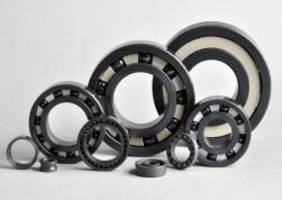 Not only is Ceramic Bearings been quiet a talk for the bike industries it is also popular in the motorist, go kart, RC race and skate boarding community. If you have not heard about it yet you will soon hear more about them. Ceramic bearings are much lighter, smoother and harder. Ortech Inc carries a full line of Hybrid and Full ceramic bearings.

Ceramic Hybrid Bearings have Steel races and Ceramic Balls. Ceramic Balls works for applications where high speed, high loads and extreme temperatures are factors. Ceramic is lighter than steel and is non-porous, non-magnetic, non corrosive. Ceramic balls are also harder than steel and is capable of spinning faster than steel balls. Since Ceramic Balls require less lubricant and the balls are much harder it is a contribute to the increase of bearing life.

Full Ceramic Bearings have races and balls that are entirely based on ceramic material. Ceramic material is perfect for any application that is seeking for higher speed. Ceramic can also withhold any harsh environment and high temperature.

There are different types of grades in both hybrid and full ceramic bearings based on the texture and the shape of the balls. The ceramic materials of which the ceramic bearings consist of are: silicon nitride (SiN4), alumina oxide (Al203), zirconia oxide (ZrO2) and silicon carbide (SiC).

Ceramic bearings have now been the main buzz in town. No need for steel bearings when you can race with ceramic bearings. We can assure you will not be disappointed with the outcome of your experience.

Ortech Inc.has been in the ceramic industries for over 15 years and serving countries world wide. Please visit our website at www.ortechceramics.com for more details or contact our office at 916-549-9696.


More from Agricultural & Farming Products