Centrifuge System cleans oil to extend engine life.
Press Release Summary: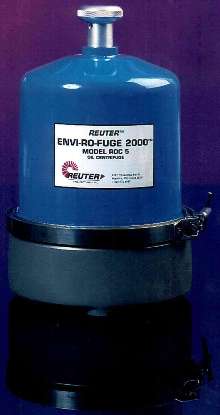 ROC 5 Envi-ro-fuge System utilizes centrifugal force of over 2,000 G to remove contaminants as small as 0.5 microns. When oil change is required, cleanliness of used oil makes it recyclable. Product takes out abrasive grit, soot, and dirt, and spins them into solid cake that is removed without shutting down operation. By-pass system allows for retrofit installation for engines, generators, pumps, and compressors with 100 gal and larger oil sump reservoirs.
---
Original Press Release:
Centrifuge Filtration Cleans Oil to Extend Large Engine Life
The ROC 5 Envi-ro-fuge System is specially engineered to clean oil for large engine and pumping systems. Utilizing a centrifugal force of over 2000 G's, it removes contaminants as small as 0.5 microns. The clean oil minimizes engine wear and greatly extends time between overhauls and oil changes. When oil change is required, the cleanliness of the used oil makes its recyclable, virtually eliminating hazardous waste disposal costs. Many of today's large engine and pumping systems have operating tolerances down to the 1 micron level while most oil filtering systems rarely do better than the 5 micron level. By removing contaminants 10 times smaller, the ROC 5 takes out the minute abrasive grit, soot, and dirt that wears highly precision fitted pistons, gears, shafts, cams and bearings. It spins these harmful contaminants into a solid cake that is easily removed without shutting down operation. The ROC 5 by-pass system allows easy retrofit installation for engines, generators, pumps and compressors with 100 gallon and larger oil sump reservoirs. It works with a wide variety of select models in brand name equipment including Cat, Deutz, Ingersoll-Rand Waukesha, White and others. The ROC 5 provides quick pay back for primary systems in continuous operation as well as for large back-up and stand-by systems in a variety of industries such as manufacturing, oil and gas, refining, pipelines, mining, marine, utilities, pumping stations and power generation. Company Description:
Magstar Technologies manufactures a variety of high technology products and systems in magnetic, centrifuges and precision conveyors for commercial, research, and cleanroom applications. Custom and standard configurations are engineered using a full complement of modular components. Headquartered in Hopkins, Minnesota, the company serves markets on a national basis. Additional information can be found at:
Magstar Website: www.magstar.com Phone: 800-554-6077
More from Chemicals & Gases