CENTRIA® MetalWrap™ Series Provides Innovative Solution for 42,000 Square Foot Fitness Facility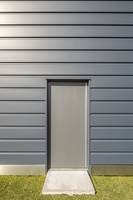 Rainscreen backup system specified for its efficient installation and aesthetic versatility
Moon Township, PA… Approximately 29,000 square feet of CENTRIA MetalWrap™ insulated composite backup panels, augmented with 15,000 square feet of Concept Series single-skin rainscreen panels, complete the façade of a new Unique Fitness facility in Holbrook, NY.
Formerly an abandoned and blighted Holbrook construction site, located on Long Island along Veterans Memorial Highway between Sunrise Highway and MacArthur Airport, the area was transformed into the 42,000 square foot Unique Fitness outlet – the fourth of its kind in Suffolk County and the company's largest location. The existing structure, a 350-foot-long abandoned office building that has been on-site since the early 2000s, was incorporated into the project.
Consequently, the design team had a large space with which to work, and they required a top-performing product that united aesthetics and energy efficiency.
"We chose to use MetalWrap because of the insulation benefits and how it conforms to stringent local energy requirements," says Tyler Fox, Project Manager, JM2 Architecture, the firm responsible for the design. "To have the building fully weather-tight with MetalWrap while still working on the exterior was a very attractive advantage from the start. Complete, it looks beautiful and we were able to achieve a modern look while keeping with the branding colors of Unique Fitness."
CENTRIA MetalWrap insulated composite panels can serve as a backup wall for nearly any type of exterior rainscreen system, from single-skin metal to brick, terra cotta, and others. The system can achieve energy efficiency goals with a single component that eliminates the need for conventional batt or board insulation, exterior gypsum, air barriers, vapor retarders, and building wraps. The MetalWrap system's single-component construction also means a single source of responsibility, which leads to less coordination, fewer scheduling and interface issues, and one-step installation.
"The CENTRIA panels met what we were looking for aesthetically and made the most sense for us regarding performance and installation benefits," says Fox.
CENTRIA Concept Series single-skin rainscreen panels also contribute to the Unique Fitness façade. The system possesses an unbroken appearance that further adds to the product's aesthetic versatility.
The Unique Fitness facility was completed in March 2019. The architect was JM2 Architecture, and the CENTRIA product was installed by Above All Store Fronts.
ABOUT CENTRIA
CENTRIA innovations in architectural metal wall and roof systems are helping building teams around the world envision metal as the future of the building envelope. From inspiration through installation, CENTRIA provides the highest level of expertise including service and support from an elite Dealer Network. Based in Pittsburgh (Moon Township, Pa.), CENTRIA metal architectural systems are the perfect combination of science and aesthetics, offering advanced thermal and moisture protection technology, the broadest spectrum of design options, truly integrated components, and superior sustainability. CENTRIA is a Cornerstone Building Brands company. Visit us at www.centria.com.
YouTube: https://www.youtube.com/channel/UCexRyuC8RVRlT1kw-TY8upQ
Facebook: https://www.facebook.com/CENTRIAperformance/
Twitter: http://twitter.com/CENTRIA
Instagram: https://www.instagram.com/centriaperformance/
LinkedIn: https://www.linkedin.com/company/centria/
Contact: Nick Murosky, LarsonO'Brien
Email: [email protected] Phone: 412-831-1959 x123