CENTRIA EcoScreen Panels Provide Precise, Strategic Solution for Broadcom Parking Garage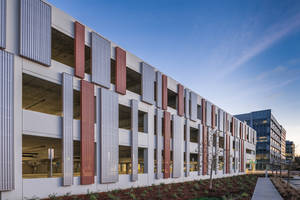 Signature veiled metal panels add visual diversity and lightness to four-level concrete structure
Moon Township, PA…The Broadcom Parking Garage, a necessary and integral portion of the HOK-designed, 1M square-foot Broadcom campus, was transformed into a visually-appealing, open structure with CENTRIA EcoScreen® Cascade perforated metal panels in Champagne Pearl and Clay. CENTRIA, a leading building envelope science company, provided 20,050 square feet of product for the four-level, 812-space garage, located in San Jose, CA.
"Part of the challenge was to transform the existing structure to become more open and interact with the surroundings," says Rafael Gavilanes, Project Architect, HOK. "The strategy was to line the precast concrete structure with a veil of systematic, yet diverse elements — a metallic veil of perforated metal and textures that allowed us to screen the cars and the headlights from the users and neighbors, while allowing light and ventilation to flow through."
EcoScreen Perforated Cascade metal panels present an airy aesthetic and offer outstanding performance, serving as elegant camouflage to better blend buildings with their surroundings. HOK were able to achieve the desired level of screening and ventilation on this garage façade using EcoScreen, which enabled the scale of the structure to appear less monolithic and more ethereal.
"CENTRIA EcoScreen allowed us color choices and precise degrees of perforations and corrugated texture," Gavilanes says. "This was a critical aspect of the design: The panels allowed us to break down the hefty garage structure to a more human and approachable scale."
Because of EcoScreen's visual character, the design team at HOK were also able to create a parking garage that was unified with the unique nature of Broadcom's exterior work environment: The campus encourages and enables the mainly software engineer staff to work outside the labs and other interior spaces. Rather than stand out, it became part of the work experience and amenities, while defining the campus' exterior perimeter. 
The Broadcom Parking Garage spans 249,000 square feet and it includes two stairwells and a masonry elevator tower. It was completed in October 2017. The general contractor was Devcon Construction, Inc., and the CENTRIA dealer was B.T. Mancini Co. Inc.
###
ABOUT CENTRIA
CENTRIA innovations in architectural metal wall and roof systems are helping building teams around the world envision metal as the future of the building envelope. From inspiration through installation, CENTRIA provides the highest level of expertise including service and support from an elite Dealer Network. Based in Pittsburgh (Moon Township, Pa.), our metal architectural systems are the perfect combination of science and aesthetics, offering advanced thermal and moisture protection technology, the broadest spectrum of design options, truly integratedcomponents, and superior sustainability. CENTRIA is an NCI Building Systems (NYSE:NCS) company. Visit us at www.centria.com.
YouTube: https://www.youtube.com/channel/UCexRyuC8RVRlT1kw-TY8upQ
Facebook: https://www.facebook.com/CENTRIAperformance/
Twitter: http://twitter.com/CENTRIA
Instagram: https://www.instagram.com/centriaperformance/
LinkedIn: https://www.linkedin.com/company/centria
More from Optics & Photonics