Centralized Hub maximizes handling flexibility in minimal space.
Press Release Summary: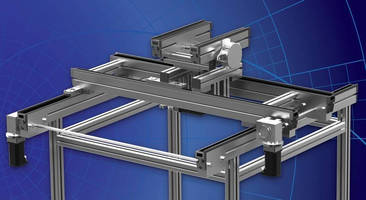 Combining powered timing belt-based conveyors that work together with other devices, Glide-Line™ 360 enables almost any type of movement – shuttle, divert, merge, sort, stack, lift/lower, transfer, and turn – for palletized products in restricted spaces. Tool allows endless configurations and maximizes assembly workspace by solving complex pallet, workpiece, and panel handling distribution challenges to address traffic control situations with regards to space limitations.
---
Original Press Release:

Boundaries are Shattered As Glide-Line(TM) Introduces the New Glide-Line(TM) 360 Which Allows Limitless Creativity for Product Handling in Minimal Space.



"Unlimited solutions for a wide range of applications" – Rick Sabo, VP Sales & Marketing, item NA, MB Kit Systems.



Souderton, PA – Glide-Line™, manufacturer of the most versatile multi-strand panel and pallet-handling conveyor solution available for the industry, introduces Glide-Line 360.



"As a provider of mechanical hardware solutions, item North America/MB Kit Systems Inc. sees multiple requests for complex material handling solutions. Clearly, Glide-Line always seems to know what customers need and the new Glide-Line 360 has unlimited solutions for a wide range of applications." Rick Sabo, Vice President, Sales & Marketing, item North America, MB Kit Systems



The Glide-Line 360 is a combination of powered timing belt based conveyors working together with our family of devices to accomplish almost any type of movement (orientation change, sort, or shift) for your product in a very small space. With this new tool in your toolbox, Glide-Line's 360 will allow for endless configurations and maximize assembly workspace.



Used as a centralized hub, the new Glide-Line 360 can help solve complex pallet, work-piece and panel handling distribution challenges. By solving challenging traffic control situations, the Glide-Line 360 makes it possible to minimize the space needed for a layout in a very cost effective manner. With just one system you can now Shuttle, Divert, Merge, Sort, Stack, Lift & Lower, Transfer and Turn your pallet or pallets. To try Glide-Line 360 for your next design, contact Craig Newberry at cnewberry@glide-line.com or call 215-721-1900 ext. 148. Look for our Glide-Line 360 in action at the following shows: Booth #1211 at the Assembly Show, ATX west, Booth #4342 and Automate, Booth #2624.  We welcome you to follow us at https://www.linkedin.com/company/glide-line.



Information about Glide-Line – Glide-Line, a subsidiary of NCC Automated Systems has helped clients overcome automation and material handling challenges for over 30 years. Within NCC's customer portfolio are some of the longest established brands including The Hershey Company, PepsiCo, Unilever, General Mills, Starbucks, Procter & Gamble and Satisloh North America. In 2015 NCC Automated Systems and all business units developed, produced and delivered over 20 million in US dollars employing over 60 employees.



Glide-Line contact – Chris Round, Director of Marketing cround@glide-line.com 513-550-2820

More from Sensors, Monitors & Transducers