Ceiling System absorbs and blocks sound.
Press Release Summary: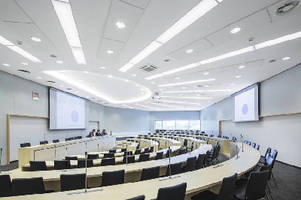 With style of smooth-finished ceiling system, Optimized Acoustics™ offers approach to meeting both sound absorption and sound blocking criteria of commercial interiors. Customers select ceiling system to optimize absorption and where needed, use walls or plenum barriers to effectively block sound between rooms. Sound-absorbing ceilings reduce sound pressure and shorten reverberation time while optimizing speech intelligibility and decreasing noise levels.
---
Original Press Release:

ROCKFON Introduces Optimized Acoustics



Chicago  – The ROCKFON Group announces Optimized Acoustics,™ an easy approach to meeting both the sound absorption and blocking criteria of today's commercial interiors, with the style of a smooth-finished ceiling system, while keeping on budget.



"There is a misconception that ceilings alone can block sound between rooms when the wall does not extend up higher than the ceilings. The reality is that most modular, acoustic ceilings by themselves, do not have enough mass to block sound effectively," explains Gary Madaras, PhD, Assoc. AIA, acoustics specialist at the ROCKFON Group. "Building standards and guidelines are evolving with more stringent acoustic requirements. Ceiling Attenuation Class (CAC), which indicates a ceiling's ability to block sound, is no longer a part of most acoustic standards, guidelines and building rating systems."



Madaras continues, "ROCKFON's approach is simple: Select a ceiling system to optimize absorption and where needed, use walls or plenum barriers to effectively block sound between rooms. This approach results in designs that comply with current standards and achieve the best sound experience at the best price."



Supporting this thoughtful approach, OptimizedAcoustics.com serves as a digital hub of educational resources and tools on acoustical performance and ceiling systems. Visitors explore paths highlighting acoustic considerations for form and function, myths and truths, as well as technical descriptions, product selection metrics, and benefits for occupants and owners.



Demonstrating the positive affects of optimized acoustics, attendees at the American Institute of Architects (AIA) Expo in Philadelphia, May 19-21, are invited to booth #3817 for a hands-on experience and listening demonstrations .As part of a 15-minute AIA Expo Chat, participants can earn 0.25 Learning Units (LUs) toward their continuing education credits.



The ROCKFON Group offers an extensive portfolio of ceiling systems for optimizing the acoustic experience of commercial interiors, including sound-absorbing ceiling panels, baffles and islands. To learn more about Optimized Acoustics, acoustic ceiling products, successful projects, continuing education courses, and other architectural and technical support, please email cs@rockfon.com, call 800-323-7164 or visit OptimizedAcoustics.com.



About ROCKFON

The ROCKFON Group is a leading provider of acoustic stone wool and metallic ceiling solutions and suspension systems.



With the acquisition of Chicago Metallic Corporation Inc., the ROCKFON Group provides customers a complete ceiling system offering combining stone wool and specialty metal ceiling panels with Chicago Metallic suspension systems.



The ROCKFON Group complete ceiling systems are a fast and simple way to create beautiful, comfortable spaces. Easy to install and durable, they protect people from noise and the spread of fire, while making a constructive contribution toward a sustainable future.



The ROCKFON Group is a subsidiary of Denmark-based ROCKWOOL International A/S, the world's largest producer of stone wool products. ROCKWOOL International A/S is listed on the NASDAQ OMX Nordic Exchange Copenhagen. More than 11.000 people in 35 countries are employed within the ROCKWOOL Group.



In North America, the ROCKWOOL Group operates under the name ROXUL Inc., ROCKWOOL®, ROXUL® and ROCKFON® are all registered trademarks of ROCKWOOL International A/S.



For more information, visit www.rockfon.com.





More from Electronic Components & Devices