Ceiling Mount Air Curtain suits commercial front entrances.
Press Release Summary: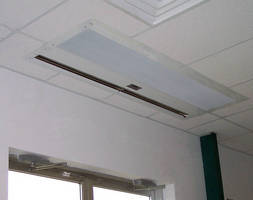 With flush-mounted design with Intelliswitch 2(TM) digital controller and Pro-V Nozzle, In-Ceiling Mount provides environmental separation and energy conservation in commercial front entrances and lobbies with pedestrian entrances from 8-10 ft high and 3-12 ft wide. Product also minimizes insect and vehicle emission infiltration while also using Venturi effect to heat discharge air without affecting laminar airflow critical for creating complete doorway air coverage.
---
Original Press Release:

Berner Introduces Second Generation In-Ceiling Mount Air Curtain; HVAC Industry's Most Effective Air Curtain



New Castle, Pa.-Berner International Corp., a leading U.S. manufacturer of air curtains, introduces the second generation of the In-Ceiling Mount featuring the Intelliswitch 2(TM) digital controller and the new patented-pending Pro-V Nozzle resulting in the HVAC industry's most feature-rich and effective air curtain for environmental separation and energy savings in commercial front entrances and lobbies.

The In-Ceiling Mount is an aesthetic ceiling flush-mounted solution to energy-saving environmental separation for 8 to 10-foot high, 3 to 12-foot-wide pedestrian entrances in hotels, office buildings, hospitals and other commercial buildings when the inconspicuousness of mechanical support equipment is critical to interior design aesthetics. The In-Ceiling Mount also minimizes insect and vehicle emission infiltration.

The In-Ceiling Mount comes standard with the Intelliswitch 2, the most advanced, greenest and easiest-to-install digital control package in the industry. The Intelliswitch 2 features a thermostat, three-speed fan control; time clock and timer delay that result in superior efficiency and performance. Additionally, the user-friendly format offers choices of three defaults or full-programming operation. The built-in Intelliswitch 2 negates the need for installing separate wall-mounted mechanical switches and thermostats, and reduces control installation costs by operating from a hand-held wireless remote control.

Another performance and efficiency addition is Berner's quiet Pro-V Nozzle design, which produces twice the air velocity at a lower decibel rating, but with the same horsepower of competing models.

The In-Ceiling Mount also introduces Berner's new patented electric heating element design. While other air curtains place their heaters in the air discharge which consequently disrupts airflow and raises operational noise, the In-Ceiling Mount uses the Venturi effect to heat the discharge air without affecting the laminar airflow that's critical for creating complete doorway air coverage.

Other benefits include:

Air velocity and volume specifications are third-party certified by the Air Movement & Control Association (AMCA), Arlington Heights, Ill.

Attractive white filtered air intake grille is powder-coated.

Exposed bottom panel and built-in trim finish pieces come standard in white aluminum or stainless steel. Custom colors are available for interior design coordination.

In-Ceiling Mount is the industry's first recessed air curtain to draw room air, versus competing model methods of needing ductwork or drawing contaminated, dusty IAQ-affecting air above the ceiling.

In-Ceiling Mount is a viable substitute for vestibules that saves 10 percent more energy and costs 40 to 95-percent less in labor/materials. When used in conjunction with a vestibule, the In-Ceiling Mount saves an additional 10 percent in energy.

The In-Ceiling Mount's electric heating or hot water/steam coil option functions as a space heater in the Comfort Plus mode to maintain vestibule set point temperature when doors are closed.

Service panel accessibility requires no ceiling panel removal. Quick removal of modular blowers/motor design, electric heating elements and other components allow easy maintenance and replacement.

The Intelliswitch 2 is designed with self-diagnostic capabilities. Personal technical support is available during business hours and a 24/7 online FAQ and troubleshooting page at www.intelli-how2.com.

The In-Ceiling Mount comes with a five-year warranty or two-year warranty for heated models.

About Berner: Berner International Corporation is a 54-year-old manufacturer and a leader in the air door/air curtain equipment manufacturing industry. Berner is a member of the U.S. Green Building Association (USGBC), The Green Building Alliance (GBA), the Air Movement & Control Association (AMCA), the American Society of Heating, Refrigerating & Air Conditioning Engineers (ASHRAE) and also a certified Women's Business Enterprise National Council member (WBENC). For more information on Berner and its products, please call (724)-658-3551 x416 or visit www.berner.com

More from Materials