TV, Monitor, and Camera Mounts
Ceiling Mount Adapter accepts up to 80 in. flat panels.
Press Release Summary: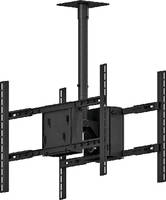 With PDS-LCM2B Adapter, PDS-LCB tilt ceiling mount can accommodate two 37–80 in. flat panel displays back-to-back with combined weight up to 360 lb. Adapter offers 0–15° tilt and supports hole patterns ranging from 200 x 200 mm up to 860 x 500 mm. Designed with black powder coat finish, adapter offers multi-function option for host of applications, including restaurants, bars, health clubs, and arenas.
---
Original Press Release:

VMP Upgrades PDS-LCM2B Ceiling Mount Adapter to Accept Up to 80-Inch Flat Panels



The Redesigned PDS-LCM2B Adapter Allows VMP's PDS-LCB Large Flat Panel Tilt Ceiling Mount to Accommodate Two 37- to 80-Inch Flat Panel Displays Back-to-Back with a Combined Weight of up to 360 lbs. 



STEVENSVILLE, Md. — Video Mount Products (videomount.com), a leading provider of mounting solutions for the commercial, residential, security, and pro audio/video markets, is proud to announce that its popular PDS-LCM2B dual large flat panel ceiling mount adapter now accepts flat panels up to 80-inches. Now shipping, the upgraded PDS-LCM2B MSRP remains at $199.95.



"We have redesigned the PDS-LCM2B to accept a wider variety of flat panels…from as small as 37 inches all the way up to 80 inches," explained Keith Fulmer, president of Video Mount Products. "The redesigned unit will not only accommodate the 200 x 200 hole pattern, but also up to 860mm x 500mm."



Increased from a maximum of 70-inch flat panels, the PDS-LCM2B adapter now allows the VMP PDS-LCB large flat panel tilt ceiling mount to accommodate two 37- to 80-inch flat panel displays back-to-back with a combined weight of up to 360 lbs. The PDS-LCM2B is the ideal multi-function option for a host of applications, such as in restaurants, bars, health clubs, and arenas.



Additional features of the VMP PDS-LCM2B include:

• Adjustable 0 degree – 15 degree tilt

• Weight: 23.6 lbs.

• Dimensions: 12.1in x 34.8in. x 22in (variable width)

• Black Powder coat finish



"With the PDS-LCM2B, multiple flat panels can be mounted together, combining for both aesthetic and practical purposes," added Fulmer. "With the connected PDS-LCB's 360 degree rotation and telescoping mast, the dual ceiling mounted flat panels can be seen from nearly any direction and angle."



For more information, please visit www.videomount.com or call toll free 877-281-2169. If you need help choosing the right mount for your application, try the VideoMount™-Finder at www.chooseamount.com.



About Video Mount Products

Video Mount Products (VMP) is a leading provider of mounting solutions for the A/V, communication and security industries since 1994. VMP products consistently offer the latest designs in safety and flexibility, all at an outstanding value. VMP's product offering continues to grow by adding mounting systems to address growing segments across many markets.



VMP has become the mounting systems company of choice for professionals and their customers everywhere. All products have been engineered for and installed with confidence in thousands of residences, businesses, hotels, restaurants, schools, hospitals, houses of worship and security applications throughout the world. VMP prides itself on providing the best products in the industry and by supporting those products with knowledgeable professionals who understand that "support" is the core of our business.