CCTV Video Multiplexer offers real-time video refresh.
Press Release Summary: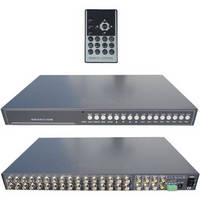 Provided with power supply and IR remote control, VM-16RT offers 16 channel BNC video inputs, 16 BNC loop out, and 4 channel audio RCA inputs in addition to 1 BNC Monitor, 2 BNC video outputs, and 1 RCA Audio Out. Supported video display modes include 8, 9, and 16 camera/channel grid; single, split, and quad screen view; sequence rotation; picture in picture (PIP); and dual PIP. Compatible with NTSC and PAL video formats, video mux also offers image freeze and selectable image zoom area.
---
Original Press Release:

16 Channel CCTV Video Multiplexer



CCTV Camera Pros launches the VM-16RT 16 Channel CCTV Video Multiplexer with Real-Time Video Refresh

Boynton Beach, FL. - CCTV Camera Pros announces the availability of the new VM-16RT CCTV multiplexer (www.cctvcamerapros.com/video-mux-cctv-multiplexer-p/vm-16rt.htm), also known as a video mux, with real-time video refresh. The VM-16RT video mux can be used as a stand-alone video processor to control various types of video views directly to a monitor and/or in conjunction with a VCR surveillance recorder. The VM-16RT has two BNC video outputs and is compatible with both NTSC and PAL video formats. It is easy to switch video screen modes using the infrared wireless remote control that is included. The VM-16RT multiplexer supports the following video display modes: 16 camera/channel grid, 9 camera/channel grid, 8 camera/channel grid, quad screen (4 camera view), split screen (dual camera view), single screen view (one camera), sequence rotation (where the screen scrolls between the cameras configured for a set amount of time that is also configurable), picture in picture mode (main channel and PIP channel is easily selected using the remote control), and dual PIP. The VM-16RT includes a power supply and wireless remote control (with battery).

The VM-16RT is currently available from CCTV Camera Pros for $499.99. For more information about the VM-16RT video multiplexer and other CCTV video processers available from CCTV Camera Pros, please visit: www.cctvcamerapros.com/CCTV-Video-Multiplexers-s/76.htm.

VM-16RT Video Multiplexer Features

16 Channel BNC Video Inputs / 16 BNC Loop Out / 4 Channel Audio RCA Inputs

1 BNC Monitor, 1 BNC VCR Out, 1 BNC VCR In, 1 RCA Audio Out

Separate Color Adjustments for each Security Camera

Brightness, Contrast, Saturation, Hue, and Sharpness

Selectable Video Display Modes: 16 Camera Grid, 9 Camera Grid, 8 Camera Grid, Quad Screen, Full Screen, Picture in Picture, Dual Screen (2 camera split screen), Auto sequence

Image Freeze Function

Selectable Image Zoom Area

Real time refresh rate

Supports NTSC and PAL Video

Text Overlay Information for each Channel: Channel Title, Time & Date

Wireless Remote Control Included

Power Supply Included

Commenting on the VM-16RT, CCTV Camera Pros managing partner Mike Haldas says: "CCTV Camera Pros is excited to offer the new VM-16RT. I believe that we are providing a great value by offering a real-time 16 channel processor at a price point well under the majority of the others on the market, and most of the others are not real-time units. CCTV Camera Pros sales engineers continue to find handy uses for video multiplexers in modern surveillance systems that have complex video display requirements that go beyond what a typical surveillance DVRs supports. We also find that some customers are using cameras only for live viewing, where no video recording is involved in the application. In addition to this, there is still a lot of VCR surveillance recorders deployed that need a replacement multiplexer when an existing one goes bad."

About CCTV Camera Pros
CCTV Camera Pros is a supplier of video surveillance systems and CCTV cameras for home, business and government. CCTV Camera Pros is a veteran owned business founded by a United States Marine and is located in Boynton Beach (Palm Beach County), Florida. CCTV Camera Pros can assist in the design of surveillance systems for any size application. Please visit CCTV Camera Pros website to learn more about us and the products we supply: www.cctvcamerapros.com.

More from Material Handling & Storage