CCTV Multiplexer features color quad video support.
Press Release Summary: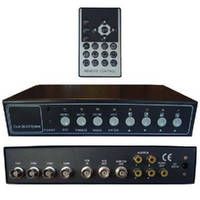 Supporting 4 channels of video input via BNC connectors and 4 audio inputs via RCA, Model VM-Q401A enables users to switch video screen modes for up to 4 cameras using wireless remote control. Unit can also serve as video multiplexer for VCR-based surveillance systems that need to process video signal for VCR. Processor supports quad, split, and single screen video modes as well as sequence rotation, picture-in-picture mode, and dual PIP.
---
Original Press Release:

Color Quad Processor for CCTV



CCTV Camera Pros launches the VM-Q401A CCTV Multiplexer with Color Quad Video Support

Boynton Beach, FL. - CCTV Camera Pros, a direct supplier of surveillance systems and CCTV products, launched the new VM-Q401A color quad processor for CCTV cameras (www.cctvcamerapros.com/quad). The VM-Q401A CCTV quad can be used as a video multiplexer for VCR based surveillance systems which need to process the video signal for the VCR. The Q401A is also very useful as a stand-alone device which allows a user to switch video screen modes for up to 4 cameras using the wireless remote control. The VM-Q401 supports the following video modes: quad screen (4 camera view), split screen (dual camera view), single screen view (one camera), sequence rotation (where the screen scrolls between the cameras configured for a set amount of time that is also configurable), picture in picture mode (main screen and PIP screen camera is switchable), and dual PIP where there are two smaller image views. The Q401A supports the 4 channels of video input via BNC connectors and 4 audio inputs via RCA. The VM-Q401A comes with the required power supply and the wireless remote control with battery.

Commenting on the VM-Q401A, CCTV Camera Pros co-founder and managing partner Mike Haldas says: "CCTV Camera Pros finds that quad processors / video multiplexers are still commonly used in many surveillance systems today. There are still many systems in service that are using legacy VCR surveillance recorders and the owners of these systems need a reliable partner like CCTV Camera Pros for affordable replacement parts. In addition, the sales engineers at CCTV Camera Pros continually find uses for quad processors when customers have video display requirements that go beyond what typical surveillance DVRs support. We also find that some customers are using CCTV cameras not for recording, but instead just for live viewing. Our new color quad processor helps us meet our customer's requirements in all of these cases. One feature that stands out on this new unit is the split screen function. Many older video processors do not offer a 2 camera split screen display mode. The dual camera display and the thin wireless remote included with the VM-Q401A, set it apart from the other color quad processors on the market and we are proud of that."

The VM-Q401A is currently available online from CCTV Camera Pros for $129.99. For additional information and to see screenshots and a demonstration video, please visit: www.cctvcamerapros.com/quad.

For more information about additional quad processors and video multiplexers available from CCTV Camera Pros, please visit www.cctvcamerapros.com/cctv-multiplexers.

About CCTV Camera Pros

CCTV Camera Pros is a direct supplier of security cameras and video surveillance systems for home, business and government use. We are a veteran owned business founded by a United States Marine and are located in Palm Beach, Florida. CCTV Camera Pros can assist in the design of surveillance systems for any size application. Please visit CCTV Camera Pros website to learn more about us and the products that we supply: www.cctvcamerapros.com.

Related