CCR's Aseptic 211 Gallon/800L Cylindrical Food Grade Tanks are More Durable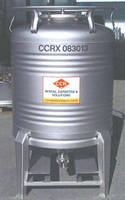 CCR's Aseptic 211 Gallon/800L cylindrical food grade tanks now comes with square legs to allow more durability and flexibility. The tank's forklift channels dimensions are 7.88" x 3.15," which gives you increasing stability and will allow you the ability to move it around easily around your facility.

Our totes are made with stainless steel material and are EC/PED 97/23 approved. Our tanks come standard with a Parker connection and a bottom drain and a butterfly valve 2 ½" tri-clamp s-line (options are available). It is capable of stacking 3 high full or 4 high empty.

CCR tanks are great aseptic containers for the food industry. Our prices are very competitive and are terms starts at a minimum of three months. We encourage you to contact us for more information or a quote.

More from Materials