CCFL Backlight Inverter Control enhances LCD TV picture quality.
Press Release Summary: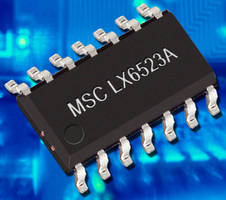 Supplied in 14-lead SOIC, LX6523A(TM) provides all key functions needed for 26-37 in. LCD TV/monitor displays. Embedded PureBLACK(TM) mega-contrast dimming technology promotes display quality and performance by adjusting lamp voltages to match multi-lamp currents to tight tolerances. It also optimizes black levels and contrast performance. Soft-start capability and fault indication are also included, along with configuration support for push-pull, full-bridge, or half-bridge drive topologies.
---
Original Press Release:

Microsemi Introduces Mega-Contrast Dimming Technology for Enhanced Black Levels and Dynamic Contrast in LCD TVs



Microsemi Launches Advanced PureBLACK Capability in First Backlight Controller in New Family for 26-Inch-and-Larger TVs

IRVINE, Calif. -- Microsemi Corporation (Nasdaq:MSCC), a leading manufacturer of high performance analog/mixed signal integrated circuits and high reliability semiconductors, announced today the first in a new family of cold cathode fluorescent lamp (CCFL) backlight inverter controller products that feature advanced mega-contrast dimming technology that significantly improves display quality and performance for 26- to 37-inch LCD TVs.

Microsemi's new LX6523A(TM) CCFL inverter controller is the first to embed its patented PureBLACK(TM) mega-contrast dimming technology, developed by Dr. Xiaoping Jin, inventor of Microsemi's widely adopted Jin Balancer that dynamically adjusts lamp voltages to match multi-lamp currents to tight tolerances. PureBLACK technology delivers superior black levels and dynamic contrast performance by building upon the Jin Balancer's ability to ensure lamp striking with very small duty cycles.

Microsemi plans to include its advanced mega-dimming capability in future controllers for 40-inch-and-larger displays that use the latest High Voltage LCD Integrated Power Supply (HV-LIPS) topology.

"We've taken another important step in CCFL backlight innovation with PureBLACK technology," said Tom Kapucija, director of marketing at Microsemi's Analog Mixed Signal Group. "It will enable high-end image quality across all display sizes and price points, demonstrating Microsemi's continuing commitment to extending performance/price capabilities while improving the consumer's visual experience," he said.

Microsemi's expanding family of backlighting, sensor and color-management system solutions drive both conventional and emerging high-efficiency LED backlight solutions in a wide variety of TV, notebook computer, automotive and other display platforms and applications.

The LX6523A controller features soft-start capability, fault indication, and flexible configuration support for push-pull, full-bridge or half-bridge drive topologies for ultra-low-cost displays solutions. It provides all key functions needed for LCD TV / monitor displays in a simplified controller that also provides reliable lamp striking, comprehensive brightness control modes, and support for 24V inverter topologies in existing backlight applications. The LX6523A controller also features tighter lamp current accuracy as compared to competitive solutions.

Key LX6523A Features:

Superior black level and dynamic contrast performance with built-in protection
-- Integrated PureBLACK(TM) mega contrast dimming technology
-- Supports over-voltage (OVP) as well as open-lamp (OLP) protection

Flexible and easy to use
-- Supports push-pull, half-bridge or full-bridge inverter configurations
-- PWM or analog-based burst dimming
-- Wide 6V to 27V supply operation
-- Features a 600mA source/sink drive and on-chip regulator with UVLO protection

Configurable and robust operation
-- Reliable operation supported by programmable strike time, strike frequency
-- User-settable burst dimming frequency and fault time
-- Multiple fault detection capabilities including open lamp, over voltage, short circuit and over current protection
-- -40 degrees C to +85 degrees C operating temperatures

Pricing and Availability
The LX6523A controller is in production release and priced at less than $0.40 in OEM quantities. It is housed in a 14-lead, narrow-body small outline plastic package (SOIC) and is also pin-compatible with the earlier-generation LX6523 to enable re-use of existing PCB layouts. Data sheets are available on the Microsemi website: www.microsemi.com. Application notes and evaluation kit information are available from local Microsemi sales representatives: www.microsemi.com/contact/contactfind.asp.

About Microsemi
Microsemi Corporation, with corporate headquarters in Irvine, California, is a leading designer, manufacturer and marketer of high performance analog and mixed-signal integrated circuits and high reliability semiconductors. The company's semiconductors manage and control or regulate power, protect against transient voltage spikes and transmit, receive and amplify signals.

Microsemi's products include individual components as well as integrated circuit solutions that enhance customer designs by improving performance and reliability, battery optimization, reducing size or protecting circuits. The principal markets the company serves include implanted medical, defense/aerospace and satellite, notebook computers, monitors and LCD TVs, automotive and mobile connectivity applications. More information may be obtained by contacting the company directly or by visiting its website at www.microsemi.com.


More from Machinery & Machining Tools